An SSL certificate (Secure Sockets Layer) is a digital certificate that encrypts the conversation between the server and browser won't be read by anyone else. It conveys a strong message to your website visitors, telling them they can place their faith in you.
Hackers and cyber-criminals will find it hard to sneak in, steal data, or tamper with it if a website is SSL certified. More than the business data, customers' information like credit card details, passwords, names, addresses, and contact details are critical.
As per SSLabs, 32.6% of sites have inadequate security. It speaks a lot about the safety of the internet. You never know who and what you're dealing with online. A website with an SSL certificate is like a guarantee of authenticity.
Why does your business need an SSL certificate?

As mentioned above, an SSL certificate deters miscreants from snooping around and stealing vital information. Apart from this, an SSL certificate also ensures that you send data to the right party and not a trickster trying to steal your financial information or identity.
The online world is like a never-ending maze. There are characters of all sorts operating from different devices. Anyone sitting on a computer could pretend to be your business and manipulate others into sending crucial information.
Getting an SSL certificate through a reputed SSL provider will protect your clients/customers against such phishing attacks.
---
Also Read: Website Safety With Secure Hosting
---
Understanding the Different Types of SSL Certificates
There are different types of SSL certificates; all of them offer the same level of encryption. The only things that separate them are the number of domains they protect and the validation requirements. It is crucial to understand the difference between them to make the right choice for your website.

1. Domain validation (DV) SSL Certificate
A Domain Validation SSL certificate offers strong 25-bit encryption, plus they're compatible with most web browsers and mobile devices.
As a website owner, if your sole aim is website validation, you should opt for a domain validation SSL certificate.
Even the process of validation for this kind of certification is quite simple. There are two kinds of registration for it – file-based verification and email verification. A domain validation SSL certificate is ideal for small or medium-sized businesses.
Let's Have a Look at how DV SSL Looks Like on the browser & what are its features
2. Organization Validated (OV) SSL Certificate
This kind of certificate offers 256-bit encryption and a 2048-bit signature. It is used to validate an organization/company.
An OV SSL certificate's prime objective is to encrypt the website and the customer's financial details to complete the transaction.
The address bar will display the business name and the site seal. It will instill trust in site visitors. Invest in an OV SSL certificate if you have an eCommerce business or collects sensitive customer information.
Let's have a look at how OV SSL display on the browser & what are its features
3. Extended Validation (EV) SSL Certificate
EV SSL certificates are ideal for protection against phishing attacks, cybercriminals, and hacking attempts. The address bar will display the company name, which builds trust and encourages customers to do business with your organization.
The process of validation for EV SSL certificates is more challenging as compared to DV and OV certificates. These are ideal for eCommerce, insurance, healthcare, banking, social media, government organizations, etc.
Let's have a look at how EV SSL display on the browser & what are its features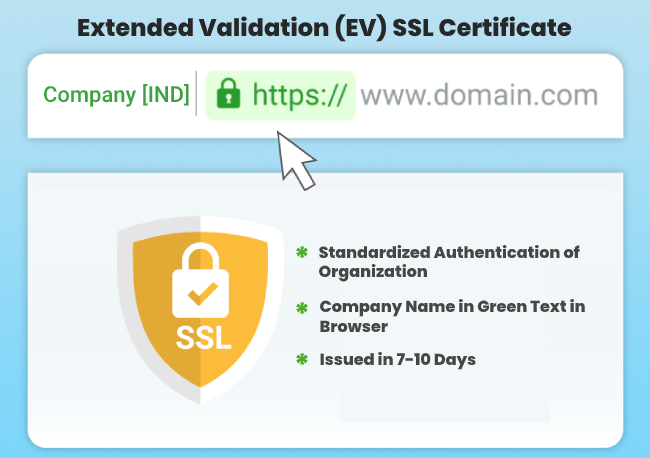 4. Wildcard SSL Certificate
A Wildcard SSL certificate is cost-effective and time-saving because it helps you secure a domain name and an unlimited number of sub-domains.
It comes along with OV and DV SSL certificates. As far as security is concerned, the 256-bit encryption and 2048-bit signature will take care of it.
Let's have a look at the display of the Wildcard SSL Certificate of the particular website with its subdomains.
5. Multi-domain (SAN) SSL Certificate
SAN allows users to secure several domains under a single certificate. It will save the organization time and money as it will secure up to 250 domain names with one certificate.
A SAN certificate supports all kinds of servers and is compatible with most browsers.
Let's have a look at the display of Multi-domain (SAN) SSL supported on the different domain names
6. Multi-domain Wildcard SSL Certificate
This certificate combines the best of both worlds – Wildcard SSL and Multi-domain SSL. You can protect many fully qualified domains and an unlimited number of sub-domains (first level only).
This certificate has full business validation, unlimited re-issuance policy, plus it offers the highest level of SSL security – 256-bit encryption and a 2048-bit signature.
Let's have a look at the display of Multi-domain Wildcard SSL supported on the different domain names
7. UCC SSL Certificate
A unified communication certificate, popularly known as a UCC certificate, is ideal for securing several fully qualified domains under one SSL certificate.
The first domain is called the primary domain, and the secondary domains are – SAN (Subject alternative domains). It is cost-effective and time-saving both as users can secure from 25 to 250 domains.
Let's have a look at the display of the UCC SSL Certificate supported on the different domain names
8. Code Signing Certificate
It is a digital signature technology that gives software publishers the ability to sign their scripts, code, and content, thereby building trust and credibility online.
Moreover, it's compatible with all versions of Windows.
Let's have a look at the display of the Code Signing Certificate
9. EV Code Signing Certificate
An extended validation signing certificate (EV) has been created for designers and publishers who aim to protect their software, app codes, content, and other digital assets from hackers, cyber-attacks, etc.
The process of obtaining this certificate involves strict validation and authentication. Developers and publishers will have to prove their identity coupled with 2-step verification, ensuring that the software reaches the right party.
Conclusion
Choosing the right SSL certificate for your business is easy if you know what you need. Think about your website's size, how visitors interact with your website, information collected from visitors, and the number of domains & sub-domains that need to be protected if you plan to add any in the future.
Protecting your website with an SSL certificate is an investment; If you don't have one, it will hamper your ability to establish trust in your customers. At Host IT Smart, our experts can recommend the right fit for your website. Get in touch today!