What is cPanel?
cPanel basically refers to one of the widely used and most popular Linux-based control panels for Web Hosting accounts which mainly allows its users to conveniently and effectively manage all the functions and activities from a single place.
cPanel refers to a web hosting control panel which is provided in the market by a number of web hosting providers to the respective owners of the websites so as to allow them to manage their particular websites from a certain web-based interface.
The cPanel basically provides the users with a graphic interface which facilitates them to run and control the server according to their will and requirement. The panel basically uses a tiered structure wherein the access is provided to the users at various different levels where the end users can take control over various aspects of the server directly through their own browser.
This cPanel can generally be accessed by adding "/cpanel" at the end of the host name. cPanel is one of the most famous, well known and well acquainted with control panels. cPanel helps you by making it easier to take control of a multitude of tasks like monitoring resources, installing new software, creating new FTP users, Email addresses and subdomains.
Advantages of cPanel:
Popular option: cPanel tends to be one of the most well- known, in fact a standard control panel which is used for various hosting panels.
Scalability: The usage of the cPanel can be diverse. It can be used for the dedicated servers, private servers, shared hosting, virtual hosting and reseller hosting.
Cheaper options: cPanel licences are not expensive. Few Licensing limitations Unlike some hosting control panels cPanel does not have any limits of the number of sites that can be used with one licence.
Easy installation: Post the set-up of server installation, all you have to do is wait for the installation script to run the cPanel.
Safe and convenient: Maintaining the cPanel and keeping it up to date, safe and secure is not a complicated task.
Intuitive and Easy to Use: In spite of its advanced features, even the beginners tend to find it easy to adapt to and perform tasks very easily on it.
Fully Featured: With cPanel, it becomes convenient for the administrators to easily and quickly add extra data and functionality to their websites with the help of the 1-click installation. It allows you to be fully feature-oriented.
Portability (Easy Migration Process): Users generally tend to keep exchanging or transferring their hosting from one supplier to the other. With cPanel, the process of migrating from one cPanel server to the other extremely easy.
Easy to Back Up: cPanel comes with multiple backup options so as to protect your data and is capable of easily integrating third party backup software's
Value Added Services: cPanel has loads of 3rd party Applications which can be easily included to add the value factor to your service in case you happen to use a Virtually Private Server or a Dedicated Server.
Inclusive of a number of advanced features: cPanel comes with a wide range of advanced features like the DNS records, setting up of databases, Apache handlers, configuring custom MIME types, virus scanner, accessing and managing of Patchman along with its basic range of features like managing DNS records and setting up databases amongst others. cPanel and WHM mainly refers to a suite of tools built for Linux OS that enables you to and gives you the ability to automate the basic web hosting tasks through a simple graphical user interface. cPanel comes with a clear goal which is to make managing servers and websites an easier task. cPanel has been characterised in certain packages and priced accordingly.These characterisations are referred to as the cPanel Account Tiers.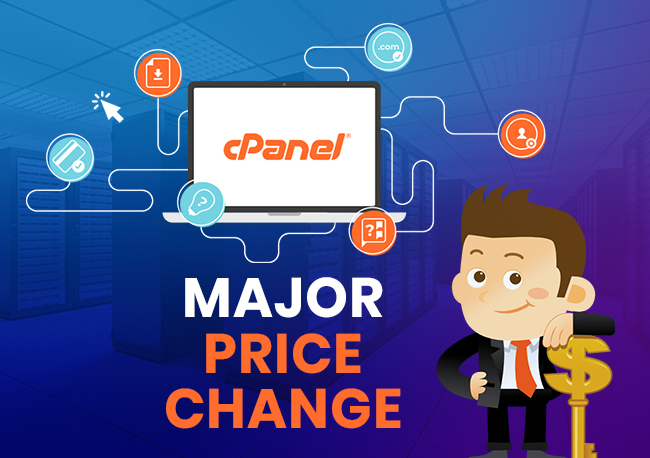 These packages can be distinguished as follows:
Starter (Up to 5 Accounts): At Rs. 2500 monthly, this package is mainly convenient for small scale to mid-level agencies and businesses, application developers and web designers who are in need of only a few accounts.
Performance (Up to 30 Accounts): At only Rs. 2900 monthly, this package is ideal for either mid-level businesses or large agencies as such. Basically, it is ideal for any institution that is in a growing phase as it allows for scalability.
Business (Up to 50 Accounts): At Rs. 4500 monthly, this kind of package is ideal for enterprise level businesses, data centers and any larger web hosts. On the basis of the above bifurcated pricing, the users can choose any particular packages depending on their subjective needs. cPanel continues to be one of the most famous and well known and well adapted to service and most of the users are used to its interface making it one of the most opted for service. But recently, in the last week of June, cPanel has shaken the entire web hosting community with its recent announcement regarding the rise in the prices. On an overview, they have shifted heir model from a 'per server pricing' to a 'per account model'. It is extremely shocking that there is something like a 1000% hike in the pricing. Basically, at the beginning of 2019, cPanel was taken over by Oakley Capital which is primarily a capitalist group. Post their purchase of cPanel, they have taken complete control over the web hosting market for the control panel. The rise in the price of the cPanel was predicted beforehand but definitely was not expected to be this high.
So, on an overview, the present pricing range of the cPanel can be discussed as follows-
For 5 accounts – Rs.2500/month.
For 30 accounts – Rs.2900/month.
For 50 accounts – Rs.4500/month.
According to this new pricing structure, users with less than 5 accounts would not be greatly affected but as the number of accounts gradually increases, the overall price of the cPanel also increases. Since cPanel is one of the most widely adapted control panels, this major change in the price has greatly affected the web hosting industry and can be one of the major problems faced by them.