When registered, any domain on the internet is owned by someone. By default, this information is publicly available. Suppose this information is available to all, then who stores this information? WHOIS stores this information securely.
First of all, the name of the database is a mystery itself. What does WHOIS stand for? Is it an acronym? If yes, what is the full form? Well, don't worry, you won't have to remember a laaargeee name. "WHOIS" is NOT an acronym. It is simply a question, "Who Is?", like "Who is the owner of a domain name or an IP address?"
With this blog, we will discuss some important aspects that will help you understand the nitty-gritty of WHOIS.
What is WHOIS Database?
WHOIS is a public database that stores information about the owners of domain names. It is the data a domain owner adds at the time of domain name registration. It offers essential ownership details about any active domain name and relevant data. WHOIS preserves the owner's information and contact details. WHOIS also houses the domain's registration, expiration dates, registrar details, and more.
---
Also Read: Understanding Domain Names – A Complete Guide
---
WHOIS History
As you know, millions of domain names are registered every year, and millions of websites are created. It would have been a chaotic system if no one had kept the information about these registrations.
Therefore, ICANN, the International Corporation for Assigned Names and Numbers, has kept these records since 1982, the foundation years of the internet. Primarily WHOIS was meant to show the contact and other technical details of the Domain and its owner.
According to them, "WHOIS is a free, publicly available directory containing the contact and technical information of registered domain name registrants."
---
Also Read: What Is A Website Name?
---
What are WHOIS Details?
The WHOIS database stores the following information collected during domain registration.
Name.

Address.

Phone Number.

Email Address.
As prescribed in ICANN's terms and conditions, the details presented to WHOIS must be accurate and genuine.
You may think that if you don't want anyone to know that you are the registrant of a certain domain, you can provide false information to the registrars. Do not even try if you don't want to lose your domain name. ICANN has clearly said that any false information might result in the suspension or cancellation of domain ownership.
Now that we have learned the basics of WHOIS, let's dive deep into the topic.
---
Also Read: Why Should You Renew Your Domain Before It Expires?
---
Why is the WHOIS Tool Useful?
WHOIS is a handy tool, and its uses range from managing domains to protecting intellectual property to making the internet a safer place.
The Internet is a vast and wild jungle; as we've discussed earlier that if there's no one keeping the books, we'll be lost in no time. We need to know the ways of the jungle, and ICANN does that by keeping the crucial information and managing domains.
If we own land in the real world, we need to have its legal papers, and there needs to be a government database that holds the name of the owners of the land. Similarly, a domain name is an intellectual property, and the WHOIS directory is the database that tells the ICANN that we own that property.
Every jungle has its predators, and every world has its crimes. The crimes of the internet world are Cybercrimes. There is fake news, then there are phishing attacks, virus attacks, scams, and so much more. The WHOIS directory helps with Cybercrime Investigations. With the help of the WHOIS database, it is easier to identify the owner of a domain name or an IP address.
---
Also Read: SUBDOMAINS: What Is It & How Is It Helpful?
---
Where is WHOIS Information stored?
The WHOIS information is stored in a WHOIS Directory of different registrars. We can access the WHOIS directory by visiting https://www.whois.com/whois/.
WHOIS records differ from registrar to registrar, but they all contain some crucial information provided during the registrations, like the domain name, the registrant name, the company it was registered on with the link to their WHOIS server, nameservers, domain status, and creation & expiration dates. It also stores the Registrar's information, like their contact details.
---
Also Read: What To Do When Your Domain Name Is Taken?
---
How do you Hide your Information on WHOIS?
You probably wonder if your information is available to the public; anyone can contact you and spam your mail. You may become subject to cyber-attacks. It is likely that crucial information like your contact details falls into the wrong hands, and can bring havoc to your life. And the WHOIS directory can 'become the very thing it swore to destroy.'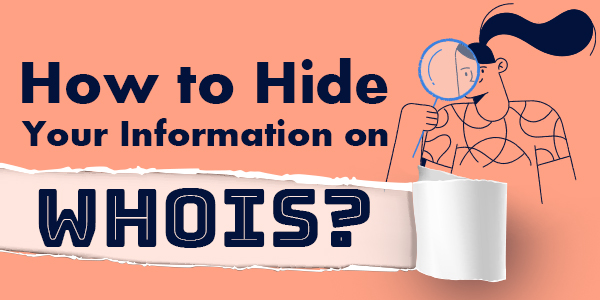 You don't have to worry about it; ICANN and the registrars have solved this problem. And the solution is Private Domain Registration. Most registrars offer this service. In this, Only the name of the registrant is shown to the public, while the registrar's contact information is shown in place of the registrant's contact information.
Someone who needs the registrant's contact information can contact the registrar and inquire about it. If the registrar finds the reason valid, they will give the information to the enquirer, if not, they will not. By this, you will only get contacted by genuine people for genuine reasons and will be safe from spam.
You just have to select the Domain Privacy Protection option during the registration. Note that some registrars have this option, and they offer this service for additional fees. Our opinion is that your privacy is the most important thing on the internet.
---
Also Read: What's My Domain Name Worth? Ways To Estimate A Domain Value
---
➢ Do I Really Need to Invest in Domain Privacy Protection?
One of the surveys conducted during the 1st half of 2022 by the Statista Research Department revealed that the data security of almost 817 cases was compromised.
During the same time, more than 53 million individuals in the United States were affected by data compromises. This included data breaches, data leakage, and data exposure.
While these many people were affected only in the US, think about the rest of the globe. What would happen if unauthorized threat generators got their hands on your sensitive data?
When you invest in domain privacy protection services, your real information becomes hidden and is replaced with an anonymous set of information that doesn't make sense. This anonymous information is published in cyberspace, protecting your sensitive information from unsolicited phone calls, junk/spam emails, and the prying eyes of identity thieves.
Let's understand this concept with an example:
➢ When You Don't Invest in Privacy Protection
➢ When You Invest in Privacy Protection
You must choose the option if you want to:
To Reduce Spam – Retrieving your contact information is very easy via the WHOIS directory if you leave your contact details visible. You are just inviting unwanted messages in your mailbox by doing so.
Salespersons and telemarketers are constantly looking over WHOIS directories to make a list to pitch their services or products to people, businesses, and organizations. You are destined to get a lot of cold emails if you leave your information public. You can also get scammed.
Control Your Contact Information –

If you leave your contact information public, you have no control over who contacts you and at what time. You can get calls from scammers at any given hour of the day.

Be safe from Identity theft –

Identity theft on the internet is REAL! Someone can pose as you to take control of your site and bring havoc to your website.

eep your Physical Location to yourself –

If your address is listed on the WHOIS directory (which generally is listed if you don't use Domain Privacy Protection), you are prone to prank calls and junk mail. And as

people on the internet are getting less tolerant every day, you can be targeted for any of your posts that they disagree with.
Now that you understand the importance of domain name privacy, Let's know how you can proceed.
In standard cases, most domain service providers offer a domain protection package when buying a new domain. It comes at an additional price, Host IT Smart offers a domain privacy protection package at Rs 299 per domain per year.
---
Also Read: Best Practices To Secure Your Website
---
Limitations of a WHOIS Lookup
Despite the huge amount of information, the WHOIS database holds about registered domain names, only some registration information is displayed. The WHOIS database always contains the registration information for certain TLDs, such as .com and .net. Other TLDs display less information, such as .me and .gov. Furthermore, domain extensions like .asia or .coop do not allow domain privacy, so registrant information is always searchable and viewable.
ICANN has always strived to improve the WHOIS system. It acknowledges that "the evolution of the Internet ecosystem has created challenges for WHOIS in every aspect."
Hence, Buying a Privacy Protection Package For Your Domain is Critical.
What is the difference between WHOIS and DNS?
Now let's understand DNS in short.
DNS stands for Domain Name System. We, as humans, use names, while computers, on the other hand, use numbers to communicate. Here the name means Domain name, while the number means IP address.
Hence, DNS resolves the domain name to the IP address to simplify matters.
Suppose you open a browser and type in the domain name "Yourcompany.com." The DNS will resolve this domain name to its relevant IP address, something like 192.168.022.010 (Example).
As discussed above, WHOIS is a database available to the public that collects and preserves the owner's information and contact details. WHOIS also houses the domain's registration, expiration dates, registrar details, and more.
The Basic Difference between WHOIS and DNS
The DNS resolves the Domain Name to its associated IP address. In contrast, the WHOIS collects and preserves the domain's registration details submitted by its owner at the time of domain registration.
Frequently Asked Questions For WHOIS
1. Who maintains WHOIS records?
When you have such humongous data that are globally accessible, it is important to maintain it with the highest security standards.
Organizations like ICANN (Internet Corporation for Assigned Names and Numbers), IANA (Internet Assigned Numbers Authority), and domain registrars maintain the WHOIS database.
Think of WHOIS Database as a telephone directory where the domain name is the telephone number, and the rest of the information is about its owner. Using the WHOIS database for domain names, you can look up contact information for a domain owner.
2. What is the purpose behind WHOIS Data?
The management of domain names, the detection of cybercrime, and the defense of intellectual property are a few of the many uses for WHOIS data. WHOIS information is used to determine the domain name's owner and registrar. Whois information also helps locate a website's hosting partner.
Conclusion
Today, we've learned a lot about WHOIS and its usefulness. We have also understood how it can become the very thing it has sworn to destroy (yes, we love Star Wars! And we'll leave no chance to reference it 🙂 ), and how to avoid it.
The WHOIS directory is very useful. It helps keep the internet a safe place. While the WHOIS lookup has some limitations, they can be easily overcome.
They are not limitations, they are growth opportunities.
Hiding your contact information on the WHOIS directory is also very important as it can save you lots of trouble and gives you control over your contact information.
Always be cautious on the internet, as predators are ready to attack you. But also remember there are defenders too. Have a safe internet surf.