Heard about the Desktop Virtualization? Well, It's quite popular! Let's know about it in depth.
Earlier, the existence of a thing or person in two different places simultaneously was nearly impossible. Although times have changed. This hypothetical situation has become a scientific breakthrough, all thanks to advanced technology.
The emergence of virtual and augmented reality has created an immersive experience for people. The concept of virtualization is not limited to human beings but also dynamic access to a desktop through a remote server. This concept is widely known as desktop virtualization technology.
This technology is perfect for end users who have trouble accessing their server or data because of constant traveling. If you are someone who can relate to this situation, continue reading this article as we guide you through what desktop virtualization is, how it works, its benefits, and its types.
What is Desktop Virtualization?
Simply speaking, the concept of desktop virtualization refers to creating a replica or version of static software on the end user's desktop or operating system. This virtualization desktop helps the end user access their static desktop remotely anytime and anywhere.
---
Also Read: Types Of Virtualization In Cloud Computing-Complete Overview
---
How Does Desktop Virtualization Works?
Desktop virtualization can be carried out in different ways. For instance. Hardware and software virtualization. However, there are two main types of virtualization — local desktop virtualization and remote desktop virtualization.
Local desktop virtualization refers to creating a virtual machine (VM) on the operating system of a client device. This is possible through hardware virtualization. After establishing the connection, tasks, and operations are processed on the local hardware.
This solution is perfect when users don't need to access CPU, memory storage, and network connections.
Remote desktop virtualization is generally for creating a remote connection on the server. End users can access and connect to the network remotely to interact with the server side for coding, developing applications, implementing CMS, etc.
The connection works as seamlessly as it would do locally. Moreover, it can be configured with specific applications, settings, and user preferences to offer a personalized experience.
Previously we gave an overview of how virtualization actually works. But there is one more aspect that must be addressed — Hypervisor.
A hypervisor is typically known as a virtual machine monitor or VMM that creates a firmware layer to create multiple virtual machines. Hypervisor is the only medium that helps in creating a virtual machine. Without the software, accessing the desktop or server is not possible.
The process of Hypervisor is pretty simple. It works by allocating a temporary virtual machine for you to do your tasks seamlessly. You can start your session by adding the login credentials and establishing a connection. The desktop won't save your session or credentials after completing the session.
Each login time, you will be allotted a new virtual machine, among other virtual desktops. An example of such a hybrid connection is Team Viewer. Upon every login, the app will display a unique password which can be shared to access the primary desktop.
Hypervisor is the most significant aspect of creating a VM. It manages and shares system resources for remote access.
---
Also Read: Get To Know About A Web Server & Types Of Web Server
---
5 Benefits of Desktop Virtualization
An Amazing Benefits of Desktop Virtualization: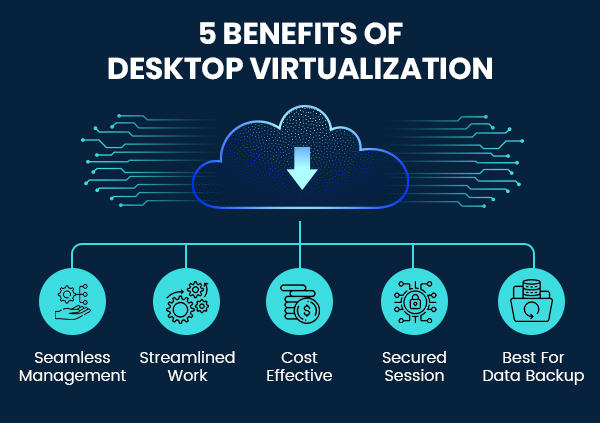 1. Seamless Management
Regardless of your location, desktop virtualization permits management and control of the server and desktop properties. This improved flexibility, which is ideal for business owners and enterprises.
In fact, it works best in IT management softwares in the IT departments in medium & large sized businesses.
They offer remote desktops to employees & administrators for software updates, install applications, hire resources, resolve technical issues, connect with the company's infrastructure, and control the environment without interruptions.
2. Streamlined Work
Another advantage of desktop virtualization is streamlined work. Unlike managing tasks individually, IT executives can streamline multiple works simultaneously. Supposedly they can deploy images, updates, and sew security patches from a single location to multiple locations.
This saves time, money, resources, and effort, as you don't have to manually visit everyone in the company to manage the tasks. Plus, the solution is quick and improves user experience without causing any impact on productivity.
3. Cost Effective
Not everything good is expensive. Some things, such as desktop virtualization, are extremely beneficial and save a lot of money.
With desktop virtualization, you don't have to invest in multiple hardware and software since everything is managed on a single server. Plus, multiple users can connect and manage the desktop at a time without any delay or lag.
4. Secure Session
One of the best advantages of desktop virtualization is the utmost security. As mentioned, you are allotted a virtual machine on a temporary basis which does not save the user's session. This lowers the chances of a data breach, online theft, and stolen information or devices.
All your information is stored on a single server for centralized management and to maintain security. Plus, data on a virtual desktop is not accessible to employees, making it safer compared to traditional PC infrastructure, where you have to go through every PC when there is a cyber attack on the environment.
5. Data Backup
Backup has always been a primary goal to safeguard data in case of cyber-attacks or malware. You can store data in various ways, including external disks or portable storage devices such as pen drives. Having sufficient physical space to store large amounts of data is crucial. Plus, it consumes a lot of time to back up data.
However, if you have desktop virtualization, you can efficiently recover and restore data as all of them are stored on the central server, which can be recovered effortlessly when there is a system failure, malware, or unwanted cyber attack.
With these explanations, we have given an overview of desktop virtualization. It's time to discuss the main and most awaited topic — different types of desktop virtualization.
---
Also Read: Top 5 Reasons Business Owners Need Website Backup
---
4 Main Types of Desktop Virtualization
1. Hosted Virtual Desktops
Hosted Virtual Desktops (HVDs) or Desktop as a Service (DAAS) refer to a cloud-based computing model. This model lets users access a desktop's operating system and software applications from any device. Accessing is only possible through a reliable and fast internet connection.
This model is a great solution for organizations offering remote jobs. Ever since the advent of Covid-19, the wave of work-home jobs and employees working remotely has been on the rise. Many employees in the workforce might be residing in different locations, and managing them can be difficult.
In such cases, hosted virtual desktops come into play! This model can offer a consistent desktop experience regardless of the device and location.
Moreover, the model can be customized as per different needs, users, departments, and so on. You can configure the software and provide authorization to the users you want.
Advantages of HVDs
The flexibility of accessing the desktop or server anytime, anywhere
No hardware cost is involved, as this model permits users to access the OS or software applications from any device.
There is absolutely no risk of data loss when confidential files and important data are stored on HVDs. The information is accumulated on a protected network, not on separate devices.
Disadvantages of HVDs
Accessing a desktop or software becomes difficult if you don't have a fast and uninterrupted internet connection. It can also negatively impact productivity.
Tailoring customizations is daunting as the model is specifically designed for multiple users.
Besides the internet connection, HVDs significantly rely on the hosting provider. Management can be a tough nut to crack if you don't have a reliable hosting provider. Plus, it can cause security issues and technical drawbacks.
2. Virtual Desktop Infrastructure
Like HVDs, Virtual Desktop Infrastructure, or VDI, allows users to approach their desktop or applications remotely from any device. VDI usually works on the servers by creating a virtual machine to host OS systems, applications, and user information.
The process is pretty simple. It works like AnyDesk. Most big-screen users have heard about AnyDesk. This is quick and reliable desktop software allowing users to access a primary device remotely. All you need to do is input AnyDesk's credentials, and you are all set to access anything on the desktop.
VDI also functions at a similar level. Once the connection is established, the primary desktop's interface will be displayed on your remote device. From your remote desktop, you can conduct changes, and access files, applications, and servers.
Advantages of VDI
Data and applications are completely secure as all of them are stored at a central location, and you get full control.
A cost-effective solution as there is no spending on hardware and maintenance of the devices.
VDI is a scalable model that can be leveraged based on your staffing needs and team size.
The model gives any time and anywhere accessibility if you have reliable internet connectivity.
Disadvantages of VDI
This model is also internet reliant. Users with an unstable and slow internet connection can face performance and accessibility issues.
Investing in multiple hardware devices might not be in the picture. However, creating and maintaining a robust server infrastructure can be expensive.
Some users may face difficulties and performance issues while remotely accessing the desktop or server.
The setup, configurations, and deployment is time-consuming and needs the expertise to ensure everything runs smoothly.
3. Remote Desktop Services
Remote Desktop Services, earlier recalled as Terminal Services, is a Windows-biased model. Basically, this model allows you to use applications and Windows desktops.
The history of RDS takes us back to 1988. The year is known to be the birth of this model in Windows NT 4.0 Terminal Server Edition. It was an independent version. Later in 2000, the server edition changed to an optional property in the Windows NT. Years later, precisely in 2009, Terminal Services was renamed to Remote Desktop Services powered by Windows Server 2008 R2.
Like the above two technologies, RDS also helps with remote access. However, it can be easily customized for different needs. RDS users can easily reduce or increase the storage capacity, virtualization, and session management.
Advantages of RDS
Remote access regardless of your geographical boundaries.
Collaboration and productivity are doubled as multiple users can leverage the model simultaneously.
No extra expenditure on hardware or software licenses.
Everything is under your control, from storing & accessing data to the accessibility of a desktop.
Reduces the risk of data breaches and security vulnerabilities
Responsive and adaptive on any screen, big or small.
Disadvantages of RDS
Usage dependency is based on a fast and stable internet connection
Users may face compatibility issues when accessing and using the desktop and applications remotely.
Security can be compromised if the credentials to the network get lost or stolen.
Setup and configuration can be time intensive and complicated.
4. Local Desktop Virtualization
This model does not operate on a physical machine but generally functions on virtual machines created on the end user's physical machine. It is an independent OS with software, settings, and files.
LVDs are highly used by developers, IT administrators, and software testers. This virtual machine is leveraged to code, test, and perform other activities without impacting the end users' local system. It can also be referred to as a personal network for performing operations.
Numerous virtualization software such as VMware, VirtualBox, Hyper-V, and similar options are available in the market. End users can choose the software, install it on their physical device, and perform all the operations seamlessly.
Advantages of LVD
Hardware costs can be reduced as multiple virtual machines function on a single device.
Confidential data and important information is managed and stored on the main server rather than distributed to individual users, eliminating the chances of a data breach or vulnerability.
Migration of LVDs from one device to another is effortless.
Every user using the virtual network can be assigned different tasks. Since multiple users have the right to simultaneously access various files and applications on a single device, increasing productivity.
Besides creating applications, coding, and testing software, LVDs can enhance the compatibility of physical devices without affecting their function.
Disadvantages of LVD
Users may face performance issues because of other aspects of virtualization.
Setup and configuration are complex and can take up a lot of time.
Users may come head to head with hardware space, memory, and processing power limitations.
LVDs must have additional licenses for uninterrupted operations.
LVDs must have a physical host for operation. If you don't have one or the connection gets disconnected, other virtual machines coherent with the physical device will also fall apart.
---
Also Read: Strategies For Implementing DevOps Practices With AWS
---
Conclusion
If you are reading this line now, thank you for staying consistent. This also shows that you have followed the entire blog. If you have, you will notice that the pros outweigh the cons in all four virtualization desktops.
No matter what you choose, you will have flexibility, control, security, and seamless provision. However, we recommend you choose wisely with a comprehensive evaluation to get the best solution for your needs.