Your website is the face of your business. When it crashes, it affects not only your productivity but also your reputation. It's not a pleasant surprise for any business owner, especially if he has no clue why it happened. Moreover, a website crash leads to downtime, resulting in customer dissatisfaction, a decline in search engine rankings, and loss of reputation, clients/customers, etc.
What is a website Crash?
When your website is no longer able to transmit and receive data and visitors cannot access your website, it is safe to say that your website has crashed. In simple language, when a website stops functioning, it's called a website crash.
As simple as it sounds, the reasons for a website crash can be quite complex to understand. Only once you know the reason for the crash can you implement corrective measures.
---
Website Crashed? 5 Reasons Business Owners Need Website Backup
---
How do you know your website has crashed?
When your staff or client tells you that your website has crashed, don't believe them blindly. Log on to the website and check if it is working (accessible). Hold the shift button and press F5 to ensure that you're not viewing the pages cached by Google.
As a service provider, if you can access the website, then there is something wrong with the client's system or his internet connection. Advise him to visit a reputed website like amazon.com or Instagram.com. When you're 100% sure that there is no glitch from the internet provider's end, try checking the website on other digital devices.
If all your efforts seem to have reached a dead-end, you can sit down and analyze the problem. Call your website hosting provider and go through the welcome mail you received when you signed up. The details like IP address, admin and root password, panel location, etc. might prove useful.
Alternatively, use a website down checker for absolute confirmation.
Effects of a website crash
Crashes are not uncommon, and even giants like Amazon, Twitter, and Facebook have faced its wrath. Any website can crash, but it is crucial to reduce the downtime if not prevent it.
A few statistics that shed light on the importance of a website's performance.
Only 2% of organizations recover from downtime within an hour. The majority have to wait longer – the average is 4.78 hours –

Network Computing

.

53% of mobile site visits are abandoned if pages take longer than 3 seconds to load –

Thinkwithgoogle.

52% of online shoppers stated that quick page loading is important to their site loyalty –

Businesswire

.
If this is the damage that website downtime and sluggish performance can do to your business, imagine the consequences of a website crash. Let's discuss the same in detail below.
What causes a website to crash?
There are numerous reasons due to which websites crash. We will discuss the ten most common reasons for website crashes. Let's get started.
1.Plugin errors
Plugins are vital tools that add functionality to your website. They enhance security, ensure better productivity, and provide a superior browsing experience. However, some plugins might conflict with each other causing the website to crash or stop working.
If your website crashes and you suspect the cause to be a plugin error, ask yourself why. Did you install a new plugin? Did you update an existing plugin, make changes to the site theme, or edit a PHP file? Your IT team needs to spring into action to identify the problem and get the site up and working.
2. Code errors
Breaking the website is the worst mistake one could make. It could cripple your website, taking it down completely. Proper loading improves a website's loading speed, and the opposite is also true. It is crucial to avoid unknown or untrustworthy plugins and hire an experienced developer to manage such issues.
3. Hacking and virus attacks
Hackers usually target unsecured, non-encrypted websites. They can crawl into your website and leave harmful malware in various files. Some of them may impact your website's performance, while others can cause your website to crash. DDoS and bots are popular tricks used by cybercriminals to attack websites.
---
Virus Attacks? Know about the website safety
---
4.Expired domains
It is necessary to understand that server hosting and domain hosting are two different things altogether. Your domain hosting will expire if not renewed, and someone else can register the domain. A reminder will be sent to you 20 days before the expiry of your domain name. Prevent your domain from expiring, enable the auto-renewal option. In most cases, you have the alternative to renew your domain for ten years.
5.Traffic surges
Always pay attention to your website traffic. When you run a promotional plan or an advertisement, the amount of traffic you receive can be a thousand times more than you imagine. Anticipate the increase in traffic and allocate your resources accordingly. An ideal solution would be to upgrade your hosting plan to meet such needs.
6. Domain/hosting provider glitches
Most domain and hosting providers have an entire fleet of IT personnel who monitor the servers at all times. However, even they face technical problems, which can cause domain/hosting servers to malfunction. There could be several reasons for the same as the breakdown of equipment, bad weather, etc. The key is to select a reputed, experienced hosting/domain provider.
---
Searching for web hosting! How Do You Point Out The Right Host For Your Website?
---
7. Blacklisted by Google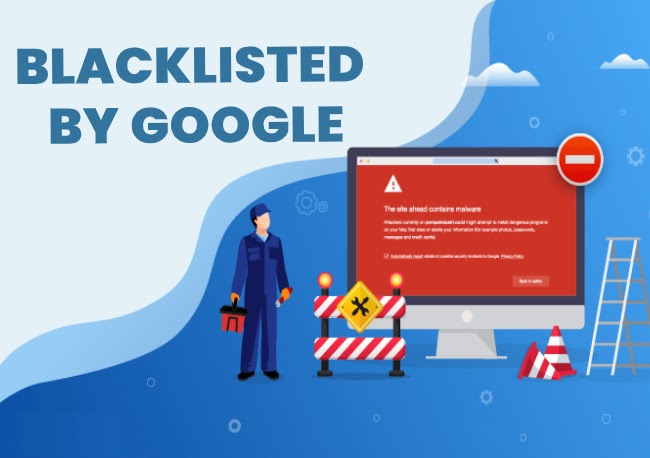 It is common knowledge that Google quarantines 10,000 doubtful websites every day and adds them to its blacklist. Google and other search engines plus antivirus companies will mark such websites as unsafe, deterring people from visiting them. Your homepage will automatically be blocked. The solution is to consult the developer and IT guy in your organization to make the necessary changes.
8. DNS errors
Think of DNS as the internet's yellow pages. Web browsers use IP addresses to find a website while people use domain names to log on to a website. DNS converts the domain names into IP addresses so that browsers could access those websites.
Improper configuration of DNS records, high TTL values, DDOS attacks, high DNS latency, network failures are a few problems associated with DNS. You must have a DNS expert at hand to resolve such issues as soon as possible.
9. Less hosting space
Why do traffic spikes occur? If you don't have enough hosting space, your website will crash. Check your hosting plan and analyze your needs. If you're on a shared hosting plan and you intend to make significant profits, you're in for a rude awakening. Choose a hosting plan that meets your requirements.
---
Facing problem in selecting hosting plans? Understand & Simplify Your Web Hosting Requirements
---
10.Server upgrade
What happens when your hosting provider runs server updates or conducts website maintenance without prior notice? It results in the website crashing leading to loss of productivity and revenue.
Steps to reduce the chances of a website crash
Once your site has crashed, you can just take steps to reverse the situation. To put it in plain words, you are in damage control mode. Indeed, you can't ensure that a site never crashes, but you can do your part to reduce such possibilities.
Hire an experienced and dedicated developer who knows his job well.

Choose a reputed hosting company to avoid such problems.

Don't go overboard with the plugins; install the important ones only. Ensure that they stay updated at all times and are compatible with your system.

Enable auto-renewal to avoid domain/hosting from expiring.

Optimize your website's performance by opting for a CDN plan and choosing the right hosting plan for your requirements.

Make sure that your network is secure, plus install powerful antivirus software. Consider backing up your data on the cloud so that you can retrieve it in case of a website crash.
Wrap up
No hosting provider can guarantee 100% uptime, and neither can they ensure that a website never crashes. However, you can take specific steps to reduce the chances of such happenings.
If your site does crash, it is essential to take this matter seriously, minimize the damage, and get the site functional at the earliest. Don't make the mistake of thinking that investing in a web-maintenance service is a waste of money. It could prove to be costly in the long run.
You can't blame it all on the web hosting provider. Sort out all the matters within your organization and ensure that there are no chinks in your armor.