For most non-technical people, plugins are complicated, and they are best left to developers and programmers. However, another segment of people who download every single plugin they come across hopes that it would benefit them.
In reality, half of them may be outdated or unwanted. Many unsafe plugins can compromise your website's security and adversely affect its performance. The key is finding a balance, installing only the necessary plugins, and providing value-added functionality to your WordPress website. As of 2021, there are over 58,000 WordPress plugins available.
---
Are you thinking to use WordPress for your website?
Read: Using WordPress For Your Next Website Project? Understanding Its Pros And Cons!
---
That brings you to these questions.
Which plugins should be installed on your website?
How do you know which plugins are the best?
How long ago was the plugin updated?
How many plugins should you install on your website?
Is it compatible with the latest WordPress version?
Where do you find the required plugins for your website?
Proper research and knowledge are vital to choosing the right plugins for your website. Ladies and gentlemen, In this blog, we will discuss the best WordPress plugins that can benefit your website. Let's get straight into it.
---
It's simple to build a Website on WordPress!
Read: Guide For Non-Techies To Build A WordPress Website
---
Points to consider while choosing the best plugins for your WordPress website
What do you look for in a website plugin, and why do you want to install it?
Are you looking for plugins to enhance website performance, improve security, boost SEO rankings, monetize your website, or customer support? Once you have a clear understanding of your objectives and how you want to achieve them, you can zero in on the best plugins and install them.
---
Don't Miss Something Important!
Read: WordPress.Com Vs WordPress.Org – What's The Difference?
---
Must-have WordPress plugins for your WordPress website
Monster Insights
WPForms
Sender
Yoast SEO
W3 Total Cache
Constant Contact
Seedprod
OptinMonster
Sucuri
MemberPress
UpdraftPlus
WP Rocket
RafflePress
TrustPulse
PushEngage
Uncanny Automator
Beaver Builder
LearnDash
WooCommerce
Nextiva
Live chats
Better Search and Replace
1. Monster Insights
One of the most distinguished web-analytics service and marketing tools is Google Analytics, a hot favorite among rookies and veterans alike. It helps you understand your target audience, enables real-time reporting and data visualization.
On its own, Google Analytics doesn't track WordPress categories, tags, keywords, number of website clicks, affiliate clicks, e-commerce conversion rate, etc. Modifying your tracking code and proper configuration of each feature will bring in the desired results, but it is time-consuming, plus a single mistake can cause the entire website to crash.
With Monster Insights, you can easily set up Google Analytics and access detailed, elaborate reports. Other features include advanced tracking with which you can track your ads, e-commerce, file downloads, cross domains, and create custom dimensions. Moreover, all the reports will be visible on your WordPress dashboard; there is no need to toggle between different websites to find specific information.
The pricing for Monster Insights starts at $99.50 a year. A free version is also available, but it doesn't offer customized reporting, enhanced e-commerce tracking, and link attribution.
2. WPForms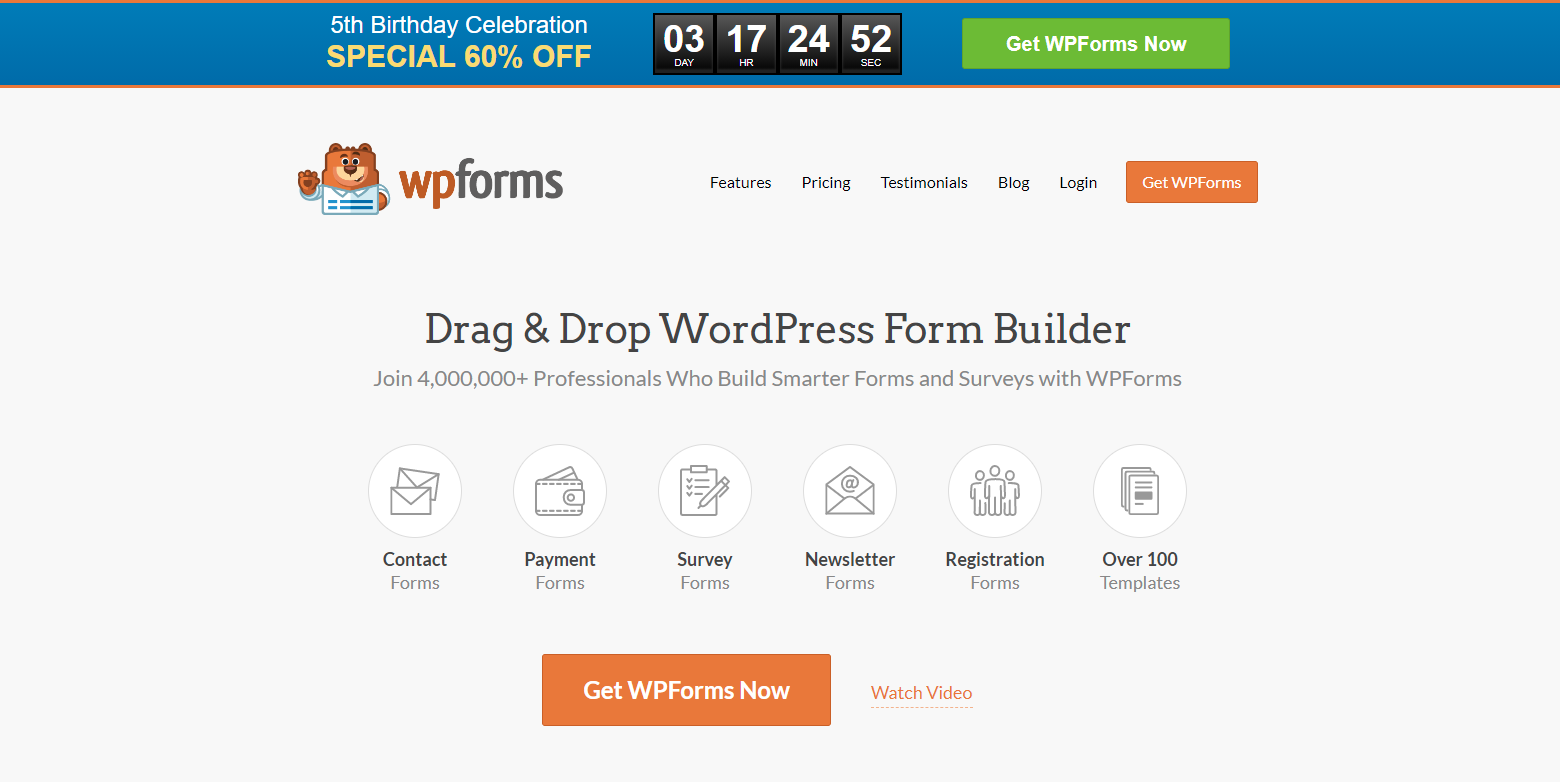 Do you want to increase your reach, get more leads, improve automation while enjoying optimal security? WP forms can help you accomplish all of the above. WPForms is a form builder plugin that allows you to create unlimited forms and get countless responses without compromising security. Simplicity and user-friendliness are the critical aspects of WPForms. No wonder more than 3 million WordPress websites use WPForms.
Apart from the above advantages, WPForms can be integrated with many other marketing tools and platforms. Other form-builder tools similar to WPForms don't even come close. Unique features like conversational forms, user journey tracking, form abandonment, geological tracking, drag, drop option, etc. You can also find pre-written templates to create customized forms.
There is a free version and a paid version of WPForms. The paid version starts from $39.50 a year.
3. Sender
If we talk about WordPress newsletter plugins, Sender comes up as the most affordable plugin for your email marketing needs. It's the perfect blend of affordability and functionality.
At the heart of its brilliance is its drag-and-drop email builder and responsive templates. With these, crafting professional and eye-catching newsletters has never been easier.
On top of email, the software offers SMS automation that helps you reach customers directly on their mobile phones. You can effortlessly combine your automated email and SMS campaigns to create an omnichannel experience for subscribers.
Other cool features of Sender include:
 

Advanced segmentation and personalization

 

High-converting popups (like spin-to-win and exit-intent)

 

High email deliverability

 

Detailed analytics and newsletter heatmap

 

Integration with e-commerce platforms and CRMs
Sender has a Free Forever plan, perfect for those just starting. With this plan, you can send 15,000 monthly emails to up to 2,500 subscribers. You also get access to all email automation features. The paid plans include $8 per month (Standard) and $29 per month (Professional).
4. Yoast SEO
Looking to attract Google & Bing users, attract more visitors from social media platforms, and build social media engagement? Search Engine Optimization (SEO) is crucial for standing out in the competitive online landscape to stand among competitors.
Yoast SEO can do all this and much more. With the Yoast SEO plugin, you can save thousands of dollars because you won't have to hire an SEO expert/manager. Yoast SEO analyzes the entire content on your website, makes it SEO friendly, provides an SEO score and recommendations for optimization & readability.
On top of this, the Yoast SEO plugin enables you to add meta tags, generate sitemaps, and connect your website to the Google Search Console. A powerful redirect feature allows you to create 301 redirects along with detecting URL changes, creating redirects to ensure that your website doesn't have any broken links. Yoast's premium version starts at USD 89, and it also has a free version.
---
Looking for a web hosting provider? Know This!
Read: What Does Your Web Host Have To Do With Your SEO?
---
5. W3 Total Cache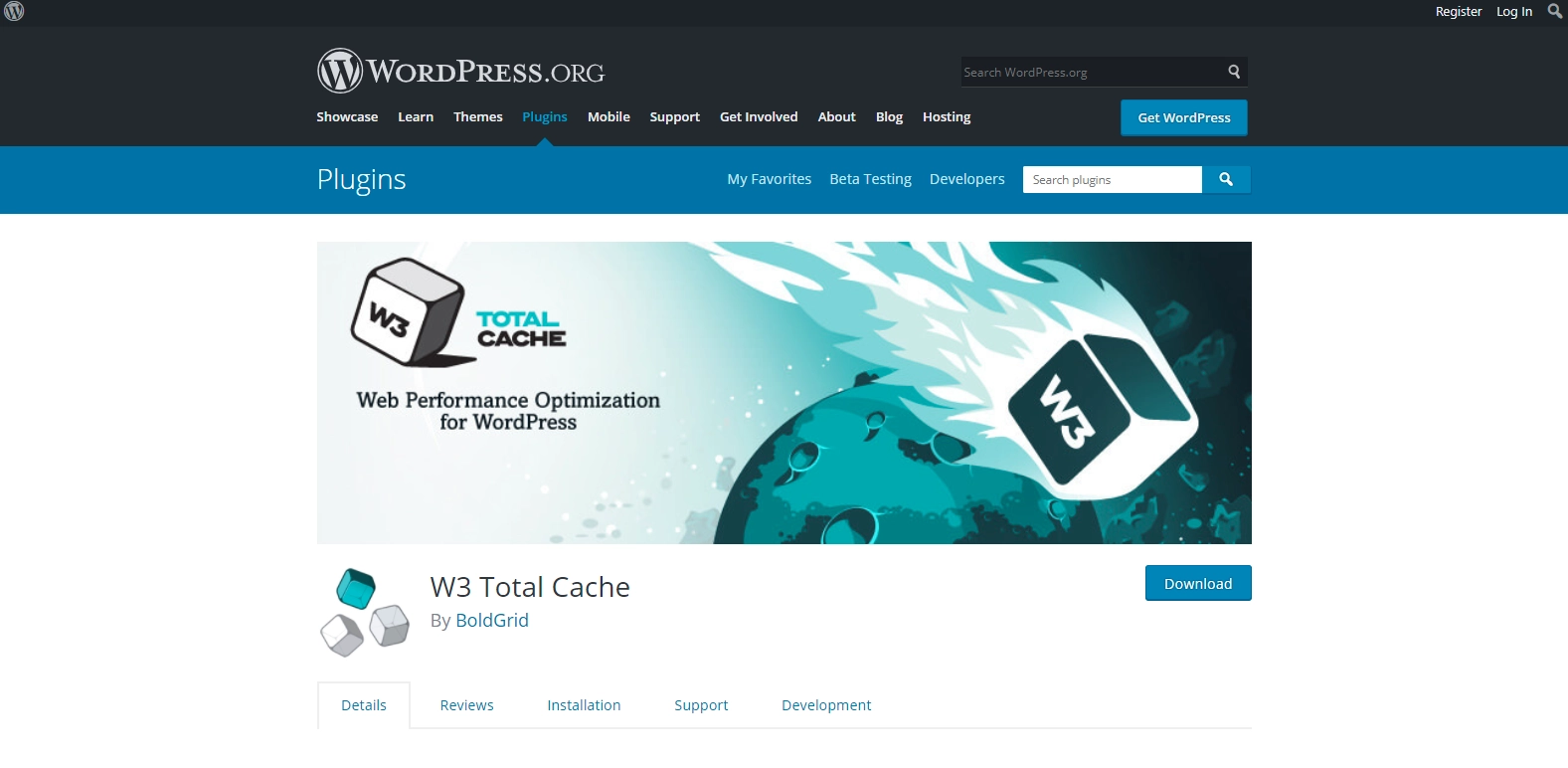 Be it any industry; speed, optimization is a must. With W3 Total Cache (W3TC), you can improve your website's SEO, enhance the user experience, reduce loading time by integrating features like content delivery network (CDN) and employing the best industry practices. By creating a cache for every part of your WordPress website to improve server performance.
W3TC offers various caching abilities like Page cache, Database cache, Browser cache, object cache, CDN integration, etc. The best thing about W3TC is that it is free.
6. Constant Contact
Constant Contact is a great tool to take your business to the next level.
What can you accomplish with Constant Contact?
Launch an email marketing campaign
Upload products to your online store
Boost awareness of social media platforms
Increase sales with Google Ads
You can easily configure Constant Contact; you don't require detailed technical knowledge to do so. It can also be effectively integrated with WordPress's lead-generation plugins like OptinMaster and WPForms. However, this is a paid software that offers a 30 days trial post in which you have two options, Email and Email Plus.
The Email plans are priced at $20 and $45 a month, respectively; the price can change depending on the number of contacts.
7. Seedprod
Out of all the WordPress landing pages, Seedprod is considered the best. When creating a new website, Seedprod facilitates quick and efficient design along with customization. With Seedprod's pre-made templates, you can create attractive landing pages in a matter of seconds, collect user data and build a loyal audience.
Simplicity is one of the salient features of Seedprod. Even an individual without coding knowledge can create landing pages fast, plus the landing pages give you insights about where your customers come from, which pages they browse on your website, and for how long.
Notable features of SeedProd –
Drag & drop page builder
Landing page-specific blocks
Subscriber management
Smart sections
Landing page templates
Responsive and mobile-friendly
Premium integrations
Built-in coming soon, maintenance & 404 pages.
Spam protection
A free version is available while there are basic, plus, pro, and elite plans too. The basic plan starts at $39.50 per year and the elite plan at $239.60 per year.
8. OptinMonster
Are you looking for a lead generation plugin that can help you create outstanding marketing campaigns? OptinMonster can do that and much more. OptinMonster is a powerful plugin that gives you the ability to convert prospects into customers and target them again after closing the sale, especially on e-commerce sites.
For blog and publication sites, OptinMonster can do wonders by increasing pageviews, boosting revenue through affiliate marketing, growing your email database, and pushing sales. More than 600,000 websites use OptinMonster and have achieved over 217 million conversions.
Now you know why OptinMonster is considered one of the best lead generation tools. OptinMonster delivers results for WordPress websites, but it can also be integrated with other platforms like Magento, BigCommerce, Shopify, etc.
Neatly designed opt-in forms with appealing, relevant content will get the attention of customers. Track your conversions, split test to get more out of lead generation. You can achieve all this and more with OptinMonster.
The top 3 features of OptinMonster are as below –
MonsterLinks 2 steps Optins
Geo-location targeting
Exit-intent technology
Drag "n" drop builder
Choice of campaign type
Campaign triggers
Targeted campaigning
Seamless integrations
Actionable insights
OptinMonsters offers a seven-day free trial post, which you can choose from 4 plans. The basic plan is priced at $9/month, while the plus, pro, and growth plan cost $19, $29, and $49, respectively.
9. Sucuri
For WordPress website security, Sucuri is the best, hands down. This free plugin works best as an add-on to your existing security arrangements. The Sucuri plugin is simple and easy to use.
All you need to do is download the plugin from the WordPress website, install it and generate the API key. After the API key is generated, the API server will communicate with a remote API service where all your audit logs will be stored.
Key features of the Sucuri WordPress plugin –
WordPress hardening
Malware scanning
Post-hack
Email alerts
Core integrity check
Sucuri firewall integration
Additional features include –
Webinar – Tutorial on how to defend against malware attacks and hacking attempts.
Email course – Important tips and actionable insights to boost website security.
Reporting
Infographics – Best practices for WordPress websites to improve website posture and cut down risks of a compromise.
Sucuri is a paid plugin. The basic plan costs $199.99 a year and the business plan at $499.99 a year.
10. MemberPress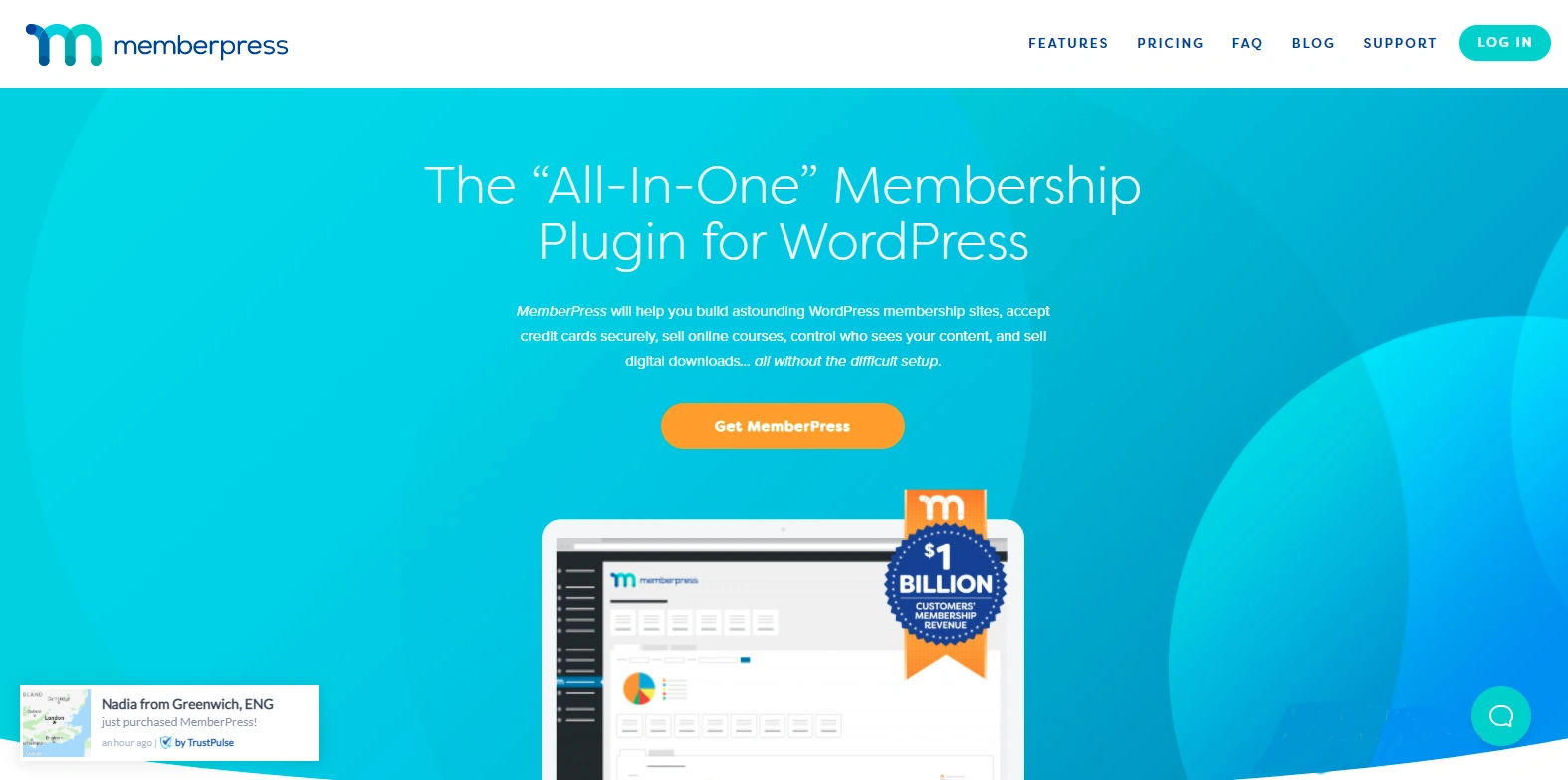 MemberPress is a simple and easy install WordPress membership plugin. With MemberPress, you can create courses, communities using WordPress and charge individuals for the same. With these subscription plans, you can even restrict viewing rights for content and charge them accordingly. Not just this, you can even assign viewing and editing rights and revoke these rights for specific individuals if necessary.
Key features of the MemberPress plugin are as below –
Control access to your content
Collect membership payments
Create multiple membership products/levels
Support discount coupons
Automate major tasks
Enjoy faster content creation, editing and get the upper hand in content design. Moreover, MemberPress allows you complete freedom, plus you save time and resources on website design. This is a paid plugin that is available in 3 plans.
The basic plan costs $149, followed by the Plus plan costing $249 and Pro-plan at $349. The best thing about MemberPress is that it comes with a 100% no-risk, money-back guarantee. If you don't like MemberPress after using it for 14 days, you will get a full refund. No questions asked.
11. UpdraftPlus
If we talk about security plugins, UpdraftPlus is one of the most trustworthy, comprehensive, and convenient plugins that ensures your online security. Hackers, failed updates, server crashes, user errors can annihilate your website. UpdraftPlus can help you deal with such problems. With a simple, uncomplicated interface, UpdraftPlus can help you backup and restore your website. It's tried and tested under various scenarios to deliver such high-quality results.
UpdraftPlus is the preferred security plugin with more than 6 million downloads and excellent ratings (4.9/5).
The chief aspects of UpdraftPlus are as follows –
Manual/scheduled backup
Set schedules – monthly/fortnightly, daily, weekly.
Restore
Additional benefits –
Cloning and migration
Incremental backups
Quick and prompt support
Pre-update backups
Backup non-WordPress files & databases
Network/multisite
Backup time and scheduling
Reporting
Extra database options
Importer
Lock-settings
Run from WP-CLI
Removes unwanted ads
---
Don't want to use a plugin for WordPress website backup?
Read: Ways To Backup A WordPress Website Without A Plugin.
---
12. WP Rocket
If you need a premium caching plugin for your WordPress website, WP Rocket is an excellent choice. With a wide range of automation features, user-friendly interface, and customization options, WP Rocket is a big hit with both rookies and experienced developers. You don't require much experience or technical expertise to use this plugin.
Benefits of WP Rocket –
Static cache for mobile & desktop (HTML content)
Browser caching
Cross-origin support for web-fonts (for Apache)
Detection and support of third-party plugins, themes & hosting environments
An ideal blend of inline and third party scripts
WooCommerce refresh cart fragments cache
Users with technical expertise can tweak the default settings and take advantage of the advanced features. Advanced options include XML sitemaps pre-loading, Google fonts optimization, Gzip compression, browser caching, lazy loading of images, database optimization, CSS & JS minification, CDN support, and much more.
WP Rocket has three plans – Single, Plus, and Infinite. The prices for the same are $49, $99 and $249.
Website speed is really important for a WordPress website!
---
Read: Ways To Optimize Your WordPress Website For Speed
---
13. RafflePress
Giveaways and contests are crucial tools to boost website traffic, increase your email list, and increase your social media followers. We all know how important followers are on social media. Engaging them & keeping track on them is a part of social media growth. For example, Your target platform is Instagram, You can analyze your growth by Instagram follower tracking to prepare the goals ahead.
RafflePress is a popular plugin that can help you achieve your goals by capturing visitors' attention and employing word-of-mouth advertising techniques.
What makes RafflePress so exceptional?
Let's take a look at some of their noteworthy features –
Drag and drop giveaway builder
Click entry and fraud protection
Marketing and CRM integration
Viral giveaway templates
Viral sharing (referrals)
Giveaway landing page
Responsive and mobile-friendly
Social media integrations
Tracking and retargeting
You can choose from any of the four plans above and take your business to the next level.
14. TrustPulse
One way to increase your sales and conversions is by adding social proof notifications. What are social proof notifications? These are small pop-ups that show up on the bottom of your browser. Social proof notifications show how website visitors interact with your business.
These notifications serve as a tool to entice new customers and propel your business.
Salient features of TrustPulse are as follows –
Real-time tracking – Display a live stream of actions on your website like purchases, testimonials, demo registrations, etc.
Visitor targeting – Display your social proof notifications to the right people at the right time to maximize results.
Compatible with many sites – You can use TrustPulse on any platform like Shopify, WordPress, Joomla, Blogger, etc.
Elegant design – TrustPulse has a sleek and customizable design enabling you to focus on every little detail.
No code – Create notifications easily and make them go live in less than 5 minutes.
Take a look at some of TrustPulse's plans –
15. PushEngage
Web-push notifications are a favorite among online marketers and businesses because it allows them to re-engage with visitors/customers. All the need to do is install a plugin and go live.
As per a study conducted by Pushpush, go, 85% of online stores and a wide range of other e-commerce operations use web push notifications in their business.
Top features of Web-push notifications:
Revenue tracking – Monitor your earnings with PushEngage's revenue tracking system. You can enable revenue tracking for all push automation campaigns.
Price drop – Customers will pay special attention to price drop notifications. By creating a price drop alert campaign, customers will be automatically notified when prices of products/services drop.
Inventory alert – Many customers might be eagerly waiting for a product that went out of stock. Push notifications can notify customers when fresh supplies arrive.
Triggered notifications – Triggered notifications are alerts sent to visitors based on their searches/actions. The right message at the right time will encourage impulse buying.
Other notable features include –
Multiple browser support
HTTPS and HTTP support
Customize opt-in
Segmentation
Drip campaigns
AB testing
Auto-push
Analytics
Schedule push notifications
Pricing for PushEngage plans is as below –
16. Uncanny Automator
For automation, Uncanny Automator is the best plugin, hands down. With Uncanny Automation, you can connect different plugins to automate administrative tasks. This unique quality enables it to integrate with third-party applications as well.
Coding knowledge is not required, which means you don't have to hire a developer, thereby saving you plenty of time and money.
The best part is that you can connect two WordPress websites and make them work together in tandem, and that too without any code.
You can choose from numerous plugins and thousands of applications. Just three simple steps and you are good to go.
Choose a trigger.
Create an action for the plugin to perform.
Let it run.
17. Beaver Builder
Creating a website is not a privilege reserved for developers and people with technical expertise. With Beaver Builder, you can create a personalized website effortlessly.
The entire process is simple because you have a wide variety of templates to choose from. Choose a template, add the text and images of your choice, and you are good to go.
Even if you stop using the plugin, the content is relocated to the WordPress editor. More than 10,00,000 websites use Beaver Builder. You can choose from three plans. The standard plan costs $99, followed by the professional plan – $99 and the agency plan costing $399.
18. LearnDash
Transform your WordPress website into a robust learning management system with LearnDash. Create online courses, quizzes, award certificates, and a lot more while retaining total control. Let's see how you can make money off LearnDash.
Memberships – Provide membership access to all your learning courses.
One-time price – Allow users to make payments for individual courses.
Subscriptions – Increase your revenue by offering recurring subscriptions and payments for your online courses.
Course licenses – With course licenses, companies and corporations can purchase licenses in bulk for their employees to use.
You can also add options for students to unlock new courses upon completion of specific courses. Such techniques will boost engagement and motivate students. LearnDash comes in three different plans – Basic ($159), Plus ($189), and Pro ($329).
Salient features of LearnDash –
Variety of pricing models
Choice of payment gateways
Renewal reminders
Refund protection
19. WooCommerce
If you run an eCommerce business, WooCommerce is a must-have. More than 82,000,000 websites use WooCommerce. With a simple, easy-to-use interface, plus a plethora of paid and free extensions, you can build a store from scratch and start selling instantly. For those who don't have the necessary knowledge to build a store, hiring a developer would be a good alternative.
WooCommerce comes pre-loaded with Paypal and BAC's plus COD option for cash on delivery orders for cash-payment options. You can install more addons on your WooCommerce store if you require more options.
Building a website from scratch can get a little complicated; WooCommerce provides you a step-by-step guide to guide you through the process. The instructions are well documented and easy to follow. If you require any kind of support, you can post it on their official forums, and you will get prompt support.
20. Nextiva
Nextiva is a business phone service that allows you to communicate with your colleagues, customers from any location in the world. Nextiva has proved to be a blessing for companies whose employees had to work from home due to the pandemic.
With Nextiva, you get a dedicated business phone number with a host of exciting features. Apart from making calls and sending messages, Nextiva also provides collaboration and data analytic tools.
The main features of Nextiva include –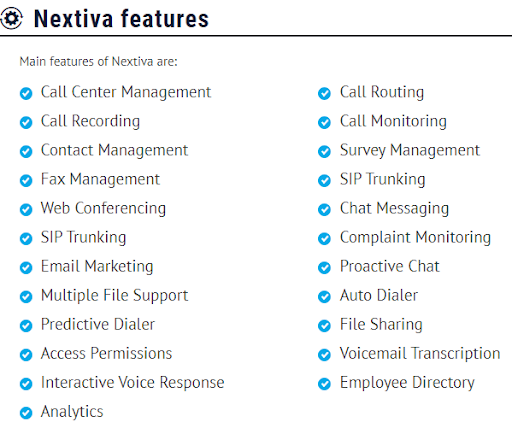 Benefits of Nextiva –
Organized messages and calls.
Improved collaborations
Increased ROI growth
21. Live chats
If your business provides services, you need the live chat feature to quickly communicate with clients/customers and quickly resolve their queries. Live chat integrates effectively with third-party applications and services. Some of these apps are Zendesk, Freshdesk, HubSpot CRM, Salesforce, Constant Contact, and social media platforms like Twitter, Facebook, Instagram.
Along with several customization options, Live chat also has a mobile app that enables you to provide real-time support.
The benefits of live chat are as follows –
Real-time problem resolution
Quick and simple.
Increase sales and conversions.
Prompt customer support
Understand customer needs better.
Facilitates product management
Maintains client relationships
The pricing depends on the number of users that are required to log in at a given time. You can create multiple agent accounts on Live Chat. As soon as customers type in their queries or questions, you would be able to see them, ensuring no delay leading to enhanced customer experience.
22. Better Search and Replace
If you are looking for a plugin that finds and replaces items on your website, look no further. Better search and Replace is the plugin for you. This plugin comes in handy when you move your WordPress website to a new domain or server. As compared to other plugins, this one is best because it incorporates the best features of most search plugins.
Some of the notable features are as below –
Serialization support for all tables
Ability to select specific tables
Ability to run a dry run to check how many files are to be updated.
No special requirements apart from a running WordPress version
WordPress multisite support
---
Looking to host a managed WordPress Website?
Read: A Complete Guide To Managed WordPress Hosting
---
Conclusion
There is no need for you to install every plugin on your WordPress website. Install only the ones you need and what you think might be of use in the future—conduct a thorough research about different plugins to understand each plugin's authenticity and effectiveness.
Once you understand each plugin's features and how you can use it to take your business to the next level.