Looking for the best websites for Entrepreneurs that can give you information about the market & current trends?
You are landed at the right spot!
A successful business is not only about making profits, acquiring partners, becoming the best leader, and understanding finances. It is also about staying on top of your game.
If you are a budding entrepreneur, keeping a close eye on the market, target audience, current trends, and competitors are a must. All this is possible through reading meaningful insights.
While numerous websites can help you grow and make a better business, spending time on finding the right ones leads to the loss of precious opportunities for networking, scaling, and generating revenue in your business. 
Stop worrying, as we are about to recommend the top websites for entrepreneurs. These suggestions are perfect for novices as well as veteran entrepreneurs.
Each source will give you access to relevant information about growing businesses & companies, leadership, the global economy, aspiring business owners, etc.
Without further ado. Let's jump straight to the recommendations.
From Startup to Success: Best Websites for Entrepreneurs
1. Forbes
This one is hard to miss. Forbes is one of the most trusted American media and publishing companies that shares news on business, technology, entrepreneurship, and lifestyle.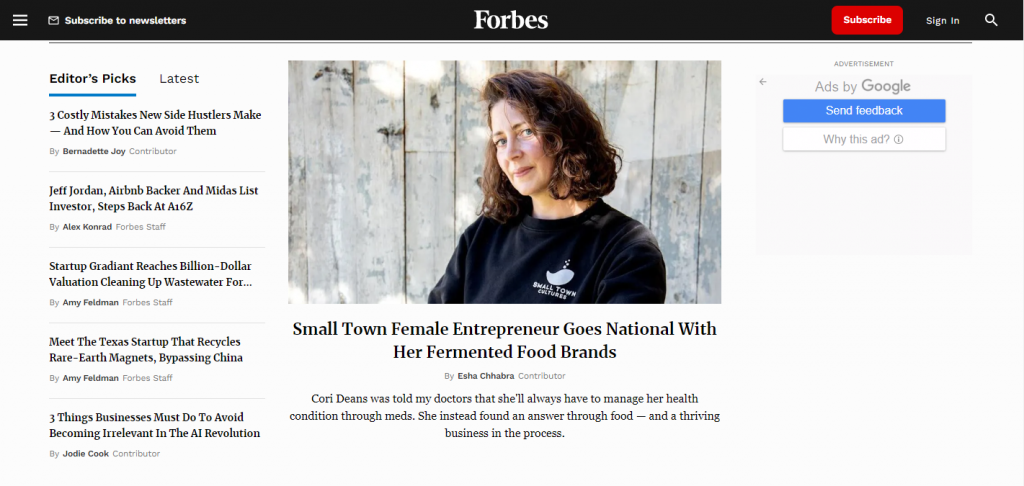 This website is extremely useful for business owners as it publishes articles on successful entrepreneurs and their inspirational journeys.
We recommend you follow its rankings. They frequently share 30 under 30 lists, feature profiles, etc., giving young entrepreneurs valuable exposure and recognition.
---
Also Read: What Are The Benefits Of A Website For Small Businesses
---
2. Inc.com
Inc.com is a digitized version of Inc. Magazine. The reason why it falls under the top 10 websites for entrepreneurs is for the well-researched articles and inspiration it spreads among business owners.
The best part about Inc.com is that it is available in different mediums for learning, such as printed, digital, videos, podcasts, and webinars.
Inc.com publishes information on businesses, successful entrepreneurs, planning, marketing, and finances. But unlike Forbes, this American magazine also shares legal advice.
---
Also Read: Tips To Start a Domain & Hosting Reseller Business
---
3. Entrepreneur.com
At times, everyone needs motivation in their life to restart but better. Entrepreneur.com is one such website that keeps you going.

The platform offers valuable and inspirational insights to entrepreneurs finding their path to success.
Entrepreneur.com shares the ups and downs of industry leaders and pioneers. Check this website whenever you feel low or demotivated to move forward in your journey.
4. CNBC
You might recall CNBC as a cable television channel for news. However, this American company also has a website and mobile app where you can check out real-time insights on business and global finances.
CNBC is the best business article website in the world today. In fact, it has a 'CNBC make-it' website with a section dedicated to entrepreneurs where they feature psychology, health, wellness, spending, investment, and many such interesting topics.
You can even subscribe to its newsletters to gain information on various industry-specific topics.
---
Also Read: How To Forex Trade In India: A Guide For Novices
---
5. The Economist
As the name suggests, The Economist is all about information on global economics. This British company focuses on current affairs, global business, finance politics, technology, and culture, which is great for entrepreneurs. They can gain market intelligence from industry experts.
The Economist also opens the doors for networking for entrepreneurs. This global news hosts numerous events & conferences. Entrepreneurs can attend them to gain valuable insights and meet industry leaders to build a professional network.
The Economist is available in printed as well as digital formats such as mobile application, website, and PressReader. Its published content is based on factual and varying opinions of people.
If you are looking for non-biased and witty viewpoints on politics or want to closely follow global events & trends, head to the Economist website.
6. Under30 CEO
Are you a young entrepreneur hoping to become the leader of the world? We recommend you start following Under30 CEO. It is a media site talking about different topics, including Entrepreneurship.
The entrepreneurship section on its website has 4 subtopics – startup advice, finding customers, interviews, and funding. They broadcast different multiple articles on these 4 topics, which can help you become the best in your field.
Don't assume that the topics are merely about leadership or entrepreneurship. They publish blogs on strategies, technology, partnerships, budgeting, interview questions, acquiring customers, and so on.
---
Also Read: Blog VS Website: The Difference You Need To Know As A Beginner
---
7. Mashable
Previously, Mashable kickstarted its journey by posting blogs on WordPress. However, today it is recognized as the best online community for learning insights on entertainment, culture, and technology.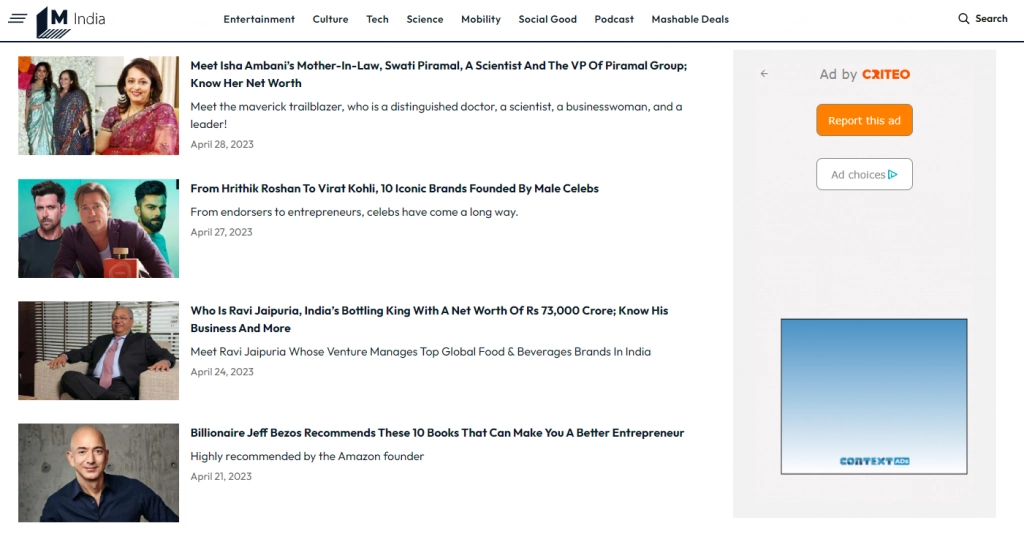 This independent site is a go-to resource for tech geeks and entertainment lovers. Readers and budding entrepreneurs are engaged by its straightforward and analytical reports on different topics.
8. TED Talks
TED Talks — the most influential platform in the world today, where experts create videos on education, business, technology, science, and creativity. Most importantly, all these meaningful insights have geographical boundaries. Meaning its videos are available in 100+ subtitles.
Their videos also cover inspiring life topics of industry leaders like Red Ventures CEO Ric Elias, Facebook COO Sheryl Sandberg, and Virgin founder Richard Branson.
---
Also Read: A Useful Guide To Building An Ecommerce Website From Scratch
---
9. Business Insider
Insider, previously known as Business Insider, is a multinational finance and business news website renowned for its quirky taglines. Its content is generally published on topics like technology, famous companies, personal finances, venture capital, investment, and startups.
Additionally, it broadcasts stories on the culture and entertainment industry. Certainly, it is not industry biased.
If you want an insider on either of these topics or all of them, try reading Business Insider.
10. AllBusiness.com
AllBusiness.com is the best website to learn the business. This site is especially excellent for small business owners as it offers resources that can kickstart, manage, and scale businesses seamlessly.
The greatest advantage of following this site is gaining practical experience from world-class experts. They spread knowledge on technology, human resources, sales, marketing, management, and all the subjects concerning creating and growing a business.
The articles also address challenges faced by small business owners in their journey. We recommend small business owners read their insightful tips to flourish in their industry.
---
Also Read: How To Set A Budget For Your Business Website Development
---
11. NewYork Times
NewYork Times is the largest daily newspaper of NewYork City, covering markets, international businesses, the world economy, entrepreneurship, technology, and personal finances.
Their in-depth analysis of different sectors can help you keep up with the latest trends and create networking opportunities. They even publish content on successful entrepreneurs and how they flourished in their journey.
This platform is great for forthcoming or existing entrepreneurs wanting to skyrocket their businesses.
12. A Smart Bear
Unlike other sites, A Smart Bear is single-handedly created by Jason Cohen, an experienced entrepreneur in technology. Cohen's content is inspired by his practical experience of kickstarting 4 companies, followed by profitable units for each company.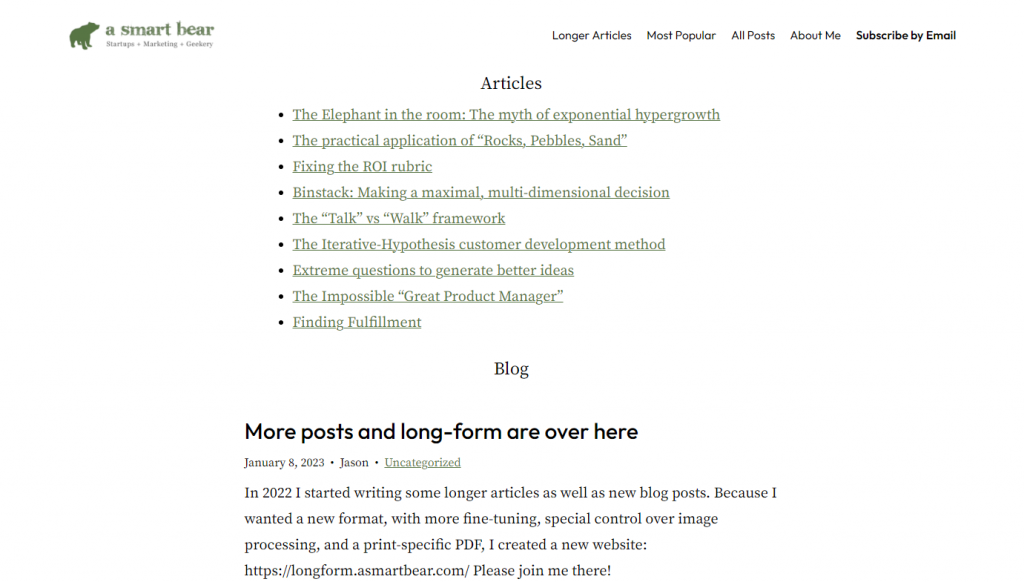 His insights include everything from prototyping to developing, testing, and automating for building tech-savvy apps and softwares. This veteran mentor can pave the way for startups and tech entrepreneurs planning to build a career as a developer.
---
Also Read: Website Development Checklist To Help Create Your First Website
---
13. Quick Sprout
Quick Sprout is a beneficial platform for first-time entrepreneurs. Their content is based on categories such as website development, marketing, blogging, entrepreneurship, finances, technology, sales, project management, etc.
One amazing advantage that needs your attention is that the experience is shared directly by leaders and entrepreneurs of the particular industry.
---
Also Read: How Much Does It Cost To Start A Blog In 2023
---
14. Techstars
Techstars, which was previously known as Startup Digest, is a media company that helps you interact with the startup community and their events through newsletters. All you need to do is subscribe to the newsletter and get information about the events happening in your area related to startups and technology.
Startup Digest not only provides valuable information and learning but is also a great way to form connections with like-minded individuals. You can connect with entrepreneurs, investors, and mentors in your field and obtain advice and support for accomplishing your business goals.
15. Quora
If Quora has to be defined in two words, it would be 'gaining and sharing knowledge.' This digital platform is pretty different compared to other recommendations. Individuals on this online platform share their personal, factual, and raw opinions on different subjects.
The best part is you can ask questions and even reply to the respondent. This portal is great for seeking answers and networking. You meet new people, learn about their distinctive thoughts & opinions, share your ideas, gain knowledge on a variety of topics, and build a strong professional network.
Conclusion
We hope these recommendations help you with a smooth transition in your entrepreneurial journey. Lastly, we would like to say that learning is a never-ending process.
You can discover unheard aspects from numerous people that will surely help you someday in your life. Hence, never shy away and gain as much knowledge as you can!