Hey, there, creative head! Are you planning to start a blogging website to make money from your writing skills? Congratulations, you have made an excellent decision. Since you are taking a step toward success, you must also be wondering about the investment.
Let us tell you building a blogging website can be a costly affair if you don't know about the ins and outs of the same. Thankfully you have us — your official chaperon who will guide you on how much does a blog website costs. We shall first discuss the factors contributing to the cost of developing a site.
What is a Blog Website?
A blogging site refers to a digital medium where writers can upload their drafted content and promote it among their target audience to increase readership.
Unlike being a part of a company's main website, a blogging site can be called a single entity, where you add new content at regular intervals to engage targeted traffic.
➢ What is Your Type?
The first question in line is your blogging type. Out of 1.9 billion websites around the globe, 600 million are blogging sites on the internet today, so which will be your forte among all these categories?
To make it easy for you, we have narrowed down the top 20 types of blog sites you can explore –
★ Food Blogs
★ Travel Blogs
★ Health And Fitness Blogs
★ Fashion Blogs
★ Photography Blogs
★ Personal Blogs
★ DIY Craft Blogs
★ Parenting Blogs
★ Music Blogs
★ Business Blogs
★ Tech Blogs
★ Art And Design Books
★ Book And Writing Blogs
★ News Blogs
★ Movie Blogs
★ Religion Blogs
★ Political Blogs
★ Finance Blogs
★ Interior Design Blogs
★ Beauty And Lifestyle Blogs
It is crucial to figure out what your forte is so that you can make an informed investment.
For instance – for creating a tech or business-oriented blogging website, you need a reliable hosting provider, additional writers sharing expertise on the same tech type as yours, domain extensions related to your site name, themes, plugins, and so on.
It is advised to figure out the forte from the beginning, as it will help plan other exclusive costs for creating the site.
What Does Building A Typical Blog Website Cost?
➢ Domain Name Cost
A domain name is a foremost crucial aspect of creating a blogging website. Users type this string of text in the search engine to find your website. Apparently, your site's name should be quirky and simple to read, remember, and type.
For instance, Do you know what is the similarity between these renowned platforms – www.netflix.com, www.facebook.com, or www.google.com? All 3 of them have a quirky yet easy to comprehend name. Without any difficulty, users can land on their website thanks to their simple DNS.
copy blogger, social media examiner, and Ghost blogging websites are other popular examples that have an easy and quirky domain name. You have to find creative domain names that would be easy to catch up with.
Now that you have chosen the website's name, the next question in line is the cost of the extension. The average price may vary on several factors, such as the specific domain extension and registration platform you choose.
Here's the list and average price of domain extensions in India:
| | |
| --- | --- |
| .com | extension comes between 500 to 1500 INR per year |
| .in | extension falls between 500 to 1000 INR per year |
| .co.in | extension costs somewhere around 300 to 800 INR per year |
| .org | extension will cost 1000 to 2000 INR per year |
| .net | extension is approximately 1000 to 2000 INR per year |
Other new top-level domains (TLDs) are more expensive compared to traditional domain extensions.
Below is the average cost of popular TLDs that can use for blogs in India:
| | |
| --- | --- |
| .tech | extension will cost 1000 to 3000 INR per year |
| .online | extension might cost 1000 to 2000 INR per year |
| .site | extension can fall between 1000 to 2000 INR per year |
| .blog | extension can be between 700 to 2200 INR Per year |
Always remember that prices may vary based on the factors mentioned above. Compare the prices with different domain registrars to grab the best deal on your preferred extension.
➢ Web Hosting
Choosing a reliable hosting provider that guarantees at least 85% uptime, ample amount of storage capacity, unlimited data, robust security, high performance, seamless integration of CMS systems (if any), and constant customer support is a must.
You also need to determine which hosting type you will choose for your needs.
Majorly there are five types of hosting services:
Shared Hosting
Cloud Hosting
VPS Hosting
Managed WordPress Hosting
Dedicated Hosting
---
Also Read:How To Host A Website In Simple Steps?
---
You may have to pay differently depending on the hosting provider, type of hosting, and other services you choose.
For instance, Upon choosing:
For shared hosting, you will have to pay somewhere between 50 to 500 INR per month.
VPS hosting will cost 500 to 2000 INR per month
Dedicated hosting will cost approximately 3000 to 20,000 INR per month
Cloud hosting will cost 500 to 5000 INR per month
Managed WordPress hosting can cost somewhere between 500 to 5000 INR per month.
Comparing the prices and features with different web hosting providers is advised. Numerous plans are available at discounted pricing with additional features such as automated backups, performance optimization tools, support quality, etc.
➢ Professional Email Address Cost
Last but not least, Email Address. A professional Email address is a must for every business, and yes, even for blogging websites. Email address builds credibility among your audience and other web users. Plus, it promotes your brand, encourages scalability, and they are absolutely easy to set up.
You can always use free email services, but they won't put your brand's image as a professional email can. On top of that, it can even hamper the trust among the users. So, getting a professional Email Address with your brand name is advisable.
For Instance: contact@techblogs.com or hello@technologicalinsights.com
Coming back to the subject – how much does it cost to have a blog email address?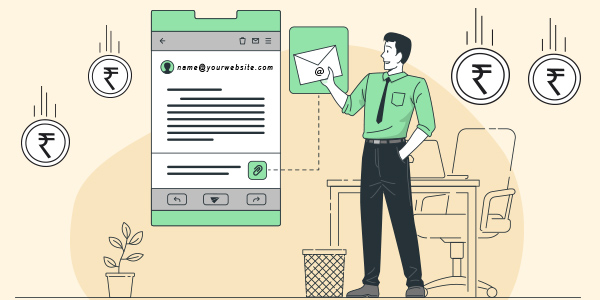 ➢The Initial cost for getting a professional Email Address would be around 150 INR monthly.
Although, the price might waver on the additional features like secondary capacity, security features, and more. Even, Many hosting providers offer Free Email with their hosting plans.
The above explanation was the average cost for a typical website. Let's move forward with website development.
For Blogging Website Development, You can go with either:
➔ Custom Development
➔ Self-Hosted WordPress Development
What Is The Cost Of Developing A Custom Blogging Website?
Before we make strides, let's first understand the concept of custom development.
What is Custom Website Development?
Custom development refers to developing a site from scratch with your preferred technology and features, followed by a pre-built design. Basically, the website is tailored uniquely to your business needs.
Now, why get a custom website when you already have a readymade solution?
Well, a custom solution allows you to create a website that helps outshine competitors in the market. It also helps in catering to an unparalleled user experience. Moreover, customizations are ideal for portraying your ideas and setting a distinctive identity for your business.
They even reduce the chances of facing cyber attacks, hacking, and other online vulnerabilities since your source code is built with high-end and can be accessed only by authorized users. You can even seamlessly integrate third-party APIs and other software.
Why is it paramount for some bloggers to get a custom blogging website?
Below are the 3 vital reasons numerous bloggers tend to get custom website development:
1. Branding – Branding is a notable factor for any business, and even for bloggers who plan to monetize through their writing skills. With custom development, you get to cultivate branding in a better way. Not only do you get to represent your niche and style of writing, but you also gain endorsements. Furthermore, it also helps in establishing a loyal following.

2. Flexibility – Imagine being able to control every aspect of your business. That's what custom development allows you to do. You can design and develop the website according to your needs. Moreover, there are no constraints that you might face with pre-built blogging websites. You can integrate additional features and functionalities as you diversify your blogging career.
On top of that, the ownership is all yours. You are not subjected to any terms and conditions; you can decide when and how to advertise the content.
3. Scalability – Many ask if they can make money through blogging, and the answer is yes! The possibilities of monetizing are endless for bloggers, especially when you have a custom-developed site.
A custom solution allows you to run display & native ads, and draft recommendations. It includes sponsored content, which you might not be able to do with pre-built and other free CMS platforms, as they have limitations over advertising.
A custom solution is best for you significantly in the long run when you build a strong reader base, and brands start trusting your site and want to pay for showcasing their products, brand, or services.
What is the Approximate Cost of Custom Development?
Generally, the cost for custom development is based on multiple factors such as requirements, complexity, project size, design, location, development company, and so on. Getting comprehensive details and quotations from the developing company is always advised.
As for estimated pricing, check out the details below:
➢ Standard websites with moderate features and functionalities will cost somewhere between 20,000 to 50,000 INR.
➢ Intermediate websites with complicated features, functionalities, and design can be charged around 50,000 to 1,50,000 INR.
➢ Full-fledged websites with highly customized features, functionalities, and layouts will cost 1,50,000 to 5,00,000 INR.
Advantages & Disadvantages of Custom Development
| | |
| --- | --- |
| Advantages of Custom Development | Disadvantages of Custom Development |
| 1. Website tailored to your goals | 1. Custom development is expensive |
| 2. Modification, integration, and customization is seamless | 2. Development is a time-consuming process |
| 3. Better scalability as you evolve | 3. Having technical expertise is a must for smooth functioning |
| 4. Enhanced speed & performance | 4. Constant support from the development & management team |
| 5. Robust security to protect from cyber-attacks & malware | 5. Maintenance is costly |
| 6. Gives a unique user-experience | 6. Requires multiple resources for development |
Since we have given an overview of custom development; we shall ride out to the cost of self-hosted WordPress
---
Also Read: Cheapest Way To Start A Website
---
What is the Cost of Self-Hosted WordPress Websites For Blogging?
What is self-WordPress Hosting?
As the name suggests, self-hosted WordPress sites give you the privilege to select the hosting plan and navigate the environment of your site. Once the rights are granted, you are in charge of everything. From installing plugins & themes to managing software & downloading the latest updates, the entire control is in your hands.
Why is Self-Hosted WordPress the Most Preferred Among Bloggers?
43.2% of all websites on the internet today leverage WordPress. This includes blogging and non-blogging websites. This also means that 2 out of 5 websites use WordPress for website development for their online business needs.
Although the question is why? Why do bloggers prefer WordPress? One of the main reasons is the flexibility of customizing the posted content as per your needs. Many CMS platforms don't offer such versatility, but WordPress allows you to tweak adding or deleting options to modify the already uploaded content.
The next reason is access to premium plugins and themes. WordPress provides almost 60,000 free plugins, 9,000 free themes, and over 31,000 premium themes. This includes popular plugins & themes like Elementor, Askimet, Jetpack, Astra, OceanWP, Neve, etc.
There are plenty of plugins and themes. You can choose the ones that collectively suit your site requirements.
Having an SEO-friendly website is one of the main priorities of almost every business owner, especially bloggers. It can be said that SEO is indispensable for bloggers. After all, this is the art and science that doubles the chances of your content appearing on top in the search results while bringing quality traffic and intended readers to the site.
By self-hosting, you can customize your site's design, functionalities, and other features. Plus, self-hosted sites offer quick turnaround time, which can help in improving SEO rankings. It also helps in building credibility among your targeted readers and subscribers, as the domain is registered under your name.
Apart from customizations, self-hosting is also entirely compliant with your needs. You can update the URL structure to index and crawl a page or the entire website on the SERP.
Moreover, self-hosting is relatively secure compared to hosting on other third-party sites. Self-hosting equates to full control over your website and its environment. You are liable for controlling everything from data management to implementing security measures.
Cost of Self-Hosting a WordPress Blogging Website?
The cost of web hosting, domain name registration, and Email Address will be similar to the point mentioned in how much does building a typical blog website cost? You can refer to the pointer to check out the cost.
➢ Plugins
Mind you; there are countless free plugins in WordPress which are equally compatible with sites. Although, if you wish to maximize the plugin's capabilities and gain access to other features, we recommend you switch to premium plugins.
➢ The cost for premium plugins is between 500 to 10,000 INR.
However, the cost might fluctuate depending on the level of functionalities.
➢ Themes
Same as plugins, there are numerous free themes available on WordPress. Although if they don't reciprocate or alloy to your requirements, you can get free premium themes.
➢ Premium themes will cost somewhere between 500 to 5000 INR.
Always remember, the cost will vary based on the grade of customization and features.
➢ Maintenance
Maintenance rates may vary widely depending on the scope of the work, experience, and expertise of the person solving the concern.
➢ You can expect to pay 500 to 5000 INR on an hourly basis.
Hope this above pricing breakdown gave you an idea of how much to spend on a self-hosted WordPress site. Now we shall demonstrate the advantages and disadvantages of self-hosting a WordPress blog site.
Advantages & Disadvantages of Self-Hosting a
WordPress blog Website
Advantages of Self WordPress Hosting
Disadvantages of Self WordPress Hosting
1. Complete control over your site & spending
1. Liable to update & install new software updates
2. Customize as you want – design, structure, plugins, & themes
2. Responsible for securing from cyber vulnerabilities
3. No-code development platform
3. Obligated for timely site backups
4. Add product or services of your choice
4. Troubleshooting site issues are a concern
5. Uninterrupted commercialization & better monetization
5. Setup can be difficult for non-technical users
6. Unlimited access to countless themes &
plugins
6. Gets expensive as your site grows
7. Seamless integration capabilities
7. Longer learning curve
Anticipating that the above-shown infographic has reflected a clear image of the pros and cons of a self-hosted WordPress site. We will now undertake the additional costs associated with blogging.
---
Also Read: The Complete Pre-Launch WordPress Website Checklist
---
Additional Costs Of Starting A Blog
Below is a list of additional costs that are involved in starting blogging.
➢ Logo Design Cost
We all know what a logo is! The creative might look tiny in size, although it is one of the major aspects of any business since it is believed to be a hallmark of a company/business.
When it comes to logo designing, you would want a quirky and unique logo representing your brand in the best possible way. You will need an expert to design an out-of-the-box logo if you are not a designer.
➔ The basic logo design will cost you somewhere around 500 to 10,000 INR
➔ An advanced quality design will cost you between 10,000 to 50,000 INR
➔ For expert designing, you might have to pay 50,000 to 100,000+ INR
The prices may alter based on the designer's expertise, location, type & complexity of design, the deadline for completion, and further changes. We recommend getting quotations from multiple designers and comparing prices to lock in the best deal. Don't forget to hire a reputable, experienced designer to get the desired output.
➢ Website Security Costs
Website security is crucial in protecting unauthorized users or hackers from tapping into sensitive information. Being a blogger, you might be wondering you don't need security, but let us tell you, that's not true.
Website security is vital for everyone, even for bloggers. You need high-end security for your blogging site to encrypt user data, safeguard your ranking on search engines, prevent website downtime, and, most apparently, prohibit hackers and unauthorized users.
To improve security on your website, you need to get a –
➔ SSL certificate – 800 to 5000 INR (Annually)
➔ Windows firewall – 2000 to 8000 INR (Annually)
➔ Website security services – 3000 to 20,000 (Annually)
No matter what type of website you have, securing it with security tools and technologies are a must.
Remember that the prices mentioned above will change depending on the security requirement level, website size, and the security services you might choose.
---
Also Read: A Guide To Secure WordPress Website – A Complete Checklist
---
➢ Email Marketing Tools Cost
Did you know that Email Marketing is the most powerful tool to promote your blogs and attract readers? This direct medium of communication allows you to send emails to your community of readers about your gated content, such as ebooks, webinars, and so on. All in all, this is a one-on-one way to interact with your audience.
To increase readership and build a community of genuine readers, you will need an Email Marketing tool to send bulk emails, which you will have to do manually in other traditional email services.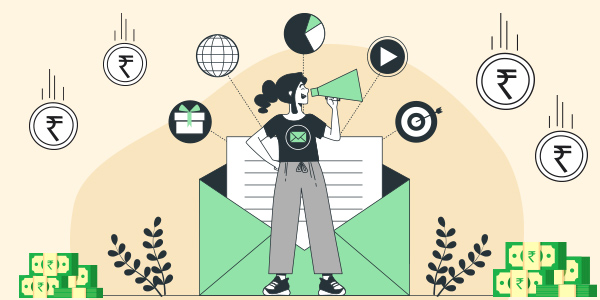 You can leverage:
➔ Free version – Allows you to add 2,000 contacts and send 10,000 emails in a month.
➔ Paid version – The paid plan starts from 799 INR per month.
➔ Free version – You can send 300 emails in a day
➔ Paid version – The paid plan starts from 1,125 INR per month
➔ Free version – You can access the free trial for 60 days
➔ Paid version – The paid plan starts from 1,434 INR per month
➔ Free version – You can take up their free trial of 30 days
➔ Paid version – The paid plan starts from 1,250 INR per month
➔ Free version – You can use their free trial of 30 days
➔ Paid version – The paid plan starts from 1,283 INR per month
Additional note – The prices of these popular Email Marketing tools may fluctuate occasionally or based on additional features and services accompanied in the plan. You can always compare the plans and choose the one that works best for your needs.
➢ Electronics Cost
Upon starting a blogging website, a common thought is calculating the design and development costs. But many tend to forget about electronic costs. Electronics costs usually include a computer, a headphone, a reliable internet connection, and a smartphone.
If you already have these electronic devices, you are all set, but if you still need to, you are supposed to purchase them to start blogging.
Below are the costs for these electronic devices:
➔ The average cost for laptops – 20,000 – 60,000 INR
➔ The average cost for reliable internet connections – 500 to 1500 INR per month.

There are numerous internet service providers out there who offer annual subscriptions. You can even get that one which will cost you around 5,000 to 30,000 INR.

Although the cost might differ based on the location, service provider, inclusive services, and speed it offers. These service providers even provide numerous offers on annual packages. You can grab those discounts for a cost-effective deal.
➔ The average price for smartphones – 8,000 to 25,000 INR
Additional note – These prices may vary based on seasonal offers, location, and other discounts. So, don't forget to compare the prices to grab the best deal.
Do I Need to Invest in a Blogging Course?
What is a blogging course?
Blogging course refers to a theoretical and practical study of drafting content through the medium of an expert resource or online programs. The course is structured in a way that guides you on how to draft a blog, generate quality traffic, entice readers to follow your post, blog promotion, and make money.
The course usually covers a variety of topics – technical and non-technical. Many courses include the technicalities of managing blogs; this includes website setup, using CMS, and leveraging SEO for ranking new websites on SERPs.
Generally, there are two types of courses -paid and unpaid- taken as a hobby or for generating revenue.
But the question is – do you need to invest in a blogging course? Well, it depends. Blogging courses are usually conducted when you are fresher in the field and want to gain knowledge on the subject or when you are relatively familiar with the subject and want to expand your knowledge at a better scale.
Writing is known to be a learning curve. You can't become a great writer or industry expert overnight. But if you have sufficient knowledge of the technical and non-technical aspects of blogging, taking up a blogging course is not recommended.
You can also use writing softwares for help in writing & up your skills. Although, if you think you are not quite familiar with blogging and the course will help you obtain the required knowledge and skills, we advise you to register for the course now! Although, if you think you are not quite familiar with blogging and the course will help you obtain the required knowledge and skills, we advise you to register for the course now!
---
Also Read: Best Content Management System Platform Optimized For SEO
---
Can I Start Blogging For Free?
Yes, of course! You can start blogging for free, but we recommend this only for newbies. If you are an experienced blogger and want to monetize through your skills, getting a full-fledged website is your best option.
If you still insist on trying free blogging sites to take experience and improve your writing skills, go ahead. Although every free version has its limitations, so do the free blogging websites.
Below is a list of the Pros and Cons of Free Blogging
➔ Pros of Free Blogging
1. No Investment Needed
As the title suggests, you don't need to invest a single penny for free blogging platforms. You can simply register by adding your personal details. You don't even need to worry about recurring fees (generally paid by premium members).
Here are a few examples of free blogging platforms
2. Retained Earnings In Account
All the earned capital through affiliate marketing, sponsorships, or any other branding will be directly deposited into your account. Meaning no profit will be deducted.
3. Easy To Use
One great advantage of free blogging platforms is their seamless use. You don't need technical or operating skills to run a platform. The platform is beginner-friendly; you must drag and drop the content to post blogs. They even offer adequate features, plugins, and themes that are relatively easy to use compared to a few open-source platforms.
4. Access To A Wide Range Of Audiences
Another outstanding feature of free blogging platforms is that they have an enormous reader base who are already leveraging the platform. You can promote your blog and increase the chance of people reading your content.
➢ Cons of Free Blogging
1. No Monetization Tools Allowed
Numerous free blogging platforms have restrictions in running Google AdSense, affiliate marketing, or their ad network. To run display, native, or any other promotional ads, you will need to purchase a paid version of the platform.
Here's a list of blogging platforms that don't permit you to run ads –
2. Limited Capabilities
Unlike the premium version, the free version offers limited customization. Meaning you cannot access all the themes or plugins. In any case, even if you can access a few themes and plugins of your choice, there might be an incompatibility between plugins, their versions, or the platform itself.
3. Less Control
Regarding the free version, you don't get complete control over your website and its spending, as you might do in the paid version. The platform will have its own set of rules which you can't break or modify fitting to your needs. Plus, you can't even edit your URL.
4. Lack Of Ownership
There is always a dangling sword on your head since you don't have ownership. You don't own the domain name or content, and if the site shuts down, your content and the registered domain will be lost to sight from the internet. On top of that, you won't be able to retrieve the lost data.
5. Too Much Time Investment
You must always keep an eye on the platform to ensure that your site, content, and user experience are functioning properly.
6. Surrounded By Spammers
Another disadvantage of a free platform is that they are susceptible to spam. Many think that spamming is limited to people, but let us tell you that it can be seen through comments, email notifications, and trackbacks.
If the blogging platform is not spam secure or doesn't include spamming policies, your blogging site will be flooded with unwanted messages, comments, and so on.
7. No Scalability
Free blogging sites are not for you if you want to scale and create brand awareness. As mentioned earlier, free versions are great for people who are starting out and want to get an experience of a specific platform, but it's not a viable option in the long run.
For instance – you will gradually expand your territory once you post and promote the content. Upon scaling, you will need more storage space, features, user accessibility, and more such things, which you won't get through the free version. Free versions have limitations, so you will have to get paid version eventually.
Having discussed the pros and cons of free blogging, let's take a look at how you can monetize your blog.
---
Also Read: Importance Of Mobile-Friendly Website & How Do You Make It?
---
Ways To Monetize Through Blogging
1. Affiliate Marketing – This marketing type is generally used when referring to a product, service, or company. You can mention the product/service/company and link their URL for reference in your blogs. You will get a certain commission every time a user purchases from the added referral link.
2. Advertisements – You can leverage Google AdSense to advertise the products, services, offers, or company on your behalf. The main purpose of Google AdSense is to showcase user-relevant ads.
Since Google AdSense is a by-product of Google, it will have all the user information, such as online shopping patterns & preferences, search queries, and so on. Generally, you get paid whenever a user views or clicks on the ads.
3. Sponsorships – Another way to monetize is sponsorship. When you feature a service/product/PR package and similar sponsorships in your blog. To get sponsorship, your site must be popular and have a decent amount of reader base. Generally, you get a one-time commission for sponsoring.
4. Online Courses – Last but definitely not least, online courses. This is one smart way to earn. The method works when you convey knowledge on a particular subject through a program or course to your targeted audience.
For instance – if you have extensive knowledge of digital marketing, you can build a course with different modules covering the aspects of digital marketing. After creating the course, you can promote it among your target audience and acquire interested learners.
Students will pay right when they enroll in the program. The more students you have, the more money you earn.
So far, we discussed blogging, its platforms, and ways to monetize. Finally, we will outline the timeline to make money through blogging.
How Much Time Does It Take To Make Money Through Blogs?
Outlining a specific timeframe is not at all possible, as several factors vary the duration of earning money. The factors that influence the time is your niche, monetization strategy, quality of the content, consistency, and experience.
For instance, if you have extensive experience and post content regularly while using effective monetization strategies, you might see results in a few months. However, if you are a novice in the field, you might take a year or two to see the desired results.
To Sum Up
Hope this blog sketched out the general picture of the cost involved in starting a blogging website. Lastly, we would like to say, consistency and hard work pay off, if not now, but definitely in the near future.
Follow these two tips and you will surely reach the top in no time.