These days a good website performance is measured by the volume of traffic on the site. Adequate quality traffic equates to better visibility and leads. What if your site is not generating enough traffic or prospects converting into sales even after grinding hard?
To save your business from fading out, you consider buying website traffic, but does this solution also work effectively for your website? Stop concerning yourself with these nail-biting questions.
Read the post to understand whether or not buying traffic is a sure-shot solution to growing your website.
What Does Buying Traffic Mean?
The term 'buying traffic' or 'Paid traffic,' means spending a certain amount of money to drive traffic to your website. Paid traffic is usually generated by running ads such as native, display, carousel, etc, on different social networking platforms. Paid traffic can be a great ROI if you follow the right marketing practices and have a sufficient budget.
Now that you know the definition of buying traffic for the website. Let's hop on to different types of website traffic.
5 Main Types Of Website Traffic
Several types of website traffic are categorized based on their source or nature. Here are some common types of website traffic: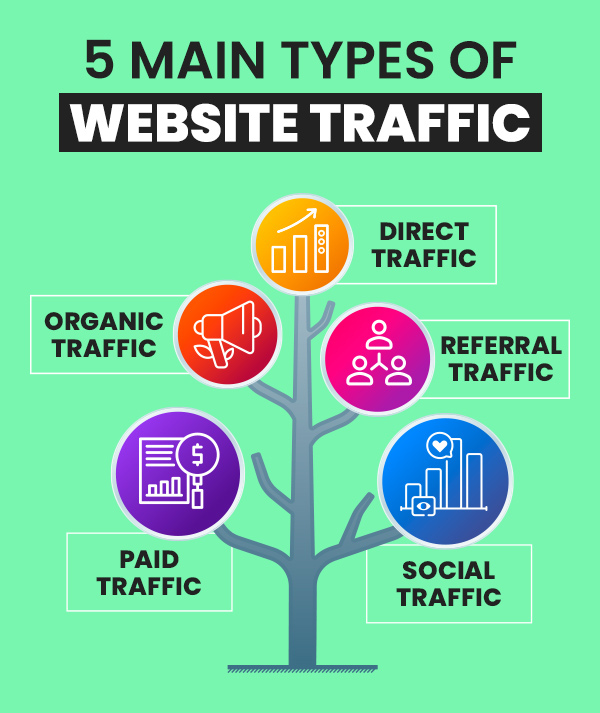 1. Paid Traffic
As previously mentioned, paid traffic refers to spending a pre-determined amount on boosting the growth of your website by running ads. The source of this traffic is Google, Bing, Facebook, LinkedIn, Youtube, Instagram, and Twitter.
Paid traffic is generated when a web user clicks on the ad. This means the higher the clicks, the better the traffic.
2. Organic Traffic
This term refers to generating traffic without spending a dime. Generally, the traffic is generated by performing SEO practices such as blogging, revamping content at regular intervals, generating high-quality backlinks, guest posting, using and updating relevant keywords, seamless site navigation, leveraging social media, and many more.
The source of the traffic is Google, Bing, Yahoo, etc. As opposed to paid traffic, organic traffic is time-consuming and difficult.
3. Direct Traffic
This traffic is also recognized as dark traffic since the generated traffic is from an unidentified source. Generally, the cause of this traffic is visitors visiting your site by saving it in the bookmark, broken or missing tracking code, browser misattribution, and so on.
4. Referral Traffic
As the name suggests, this type of traffic is generated through referral links on social networking sites or other sites with links to your website. Web users typically don't search for your site on Google. They might see the link to your site on different platforms and click on it to explore more.
Google tracking system categorizes this traffic under the referral section. Another source of this traffic is backlinks. If your site name is linked to higher-authority domains, people might click on it and check out your offerings.
5. Social Traffic
The source of the social traffic is users using social networking sites through mobile apps. For instance – web users clicking on the link to your site attached to a retweet or social media post will be classified as social traffic. This traffic can occur on your site from paid or organic sources.
Supposedly, you have a marketing site and social media account. You post content at regular intervals with relevant hashtags on social media. You will have a better chance of appearing at the top of the search results if users add the same hashtag you shared on your posts.
If the web users find the post informative & relevant to their requirements, they will click on the link to your site in the caption. This redirected traffic can be counted as social traffic.
---
Also Read: Top Industries That Can Benefit From SEO In 2023
---
How Does Buying Traffic For A Website Work?
To give you a bigger and better picture of how buying traffic for a website works, we will first explain to you different ad formats. Generally, there are 7 main ad formats –
Search Ads
Shopping Ads
Display Ads
Video Ads
Gmail Ads
Performance Max Ads
Smart Campaigns
They are most commonly used for generating traffic on your website. This doesn't mean that a specific ad format or all of them will work for you. The ad format will be chosen, and the campaign will run based on your objective.
Supposedly, you have started an eCommerce website whose goal is generating traffic and sales; which ad format will be the most preferred? Apparently, the shopping ad format would be the priority.
Mind you, the choice of format is dependent on your objective and product/service. Besides this, another to consider is pricing models — PPC (Pay Per Click), PPI (Pay Per Impression), PPV (Pay Per View), and CPC (Cost Per Conversion).
The PPC pricing model refers to a user clicking on your ad and redirecting to your site. This means every time a user clicks on your ad, a pre-determined amount is debited from your account.
The PPI pricing model works when your ad gets displayed to targeted web users. No matter if the user interacts with your ads, the fee will be deducted based on the number of impressions. The common fee for this model is usually based on per thousand impressions.
The PPV model generally works when a user views a video advertisement. Every time a user views the video content, a certain amount is debited from your ads account. The PPV model is usually used in video advertising campaigns to launch new products or create brand awareness.
The CPC advertising model works when a web user fills contact information form, signs up for your site, newsletters, etc, or takes a call to action. Upon every successful view, you are liable to pay a certain amount to the advertising platform.
Again you cannot choose one or all the models. Choosing a pricing model depends on your goals, business, budget, and products/services.
Many ask why choose these pricing models when you can go for organic traffic. Well, of course, you can always go for organic traffic. However, it's a time-consuming process. You might see effective results after striving for 3 to 6 months. This period can even go up to a year.
As for the paid ads, they will give you impressive outcomes within a short period. In fact, within 1 hour of running an ad, you will start getting impressions. On top of that, you get full control of paid ads.
You can manage the budget, reach specific demographics & locations, craft creative ad copy, format bidding strategy, and make required adjustments according to your criteria. Ultimately, achieving your desired goal becomes relatively easy.
---
Also Read: 8 Best Ways To Make Money With WordPress
---
➢ What Are The Sources Of Paid Traffic?
There are numerous sources of paid traffic. A few of them are listed below:
Search engines
Social media
Banner ads
Pop-up ads
Visual ads
Promoting services/products through influencers
Partnering with affiliates or publishers for promotion
Native ads
Online videos
➢ How To Determine The Quality Of Purchase Traffic?
Identifying the quality of traffic is no longer about page views or site visits. This scenario has evolved to the extent that today multiple metrics are considered to ensure the quality of the traffic. Firstly the conversion rate.
According to BizcaBoom, you need to figure out the overall conversion rate. Supposedly your overall conversion rate is 0.2; you must work hard to increase it. However, if your conversion rate falls under 1-5%, you are on the right track, and if you keep thriving, the conversion rate will only be increased.
You can also analyze the quality of your traffic by tracking your conversions through Google Analytics or any 3rd party SEO tools. If you receive desired leads through calls, contact forms, users visiting your site, and clicking a call to action, you must assume you are in the correct course of action.
Another way to measure the quality of traffic is a lead ratio. This means how much traffic you get on your site and how many of them convert into leads. Suppose you have 300 visitors in a day, and the conversion rate is 2; you must improve your strategies to get more leads.
Besides these two, looking at your bounce rate is also advised. If your bounce rate is over 90%, that can be an alarming cause for you. You need to heed attention the reduce it.
The source of your traffic can also be one way to determine the quality of your traffic. For instance – if your site receives dark, illegitimate, robotic, click farms, disinterested users, or robotic traffic, you must assume that your traffic falls under the bad category. You need to rework your strategies to get good traffic.
Of course, the other most common ways to analyze the quality of your traffic is through average spent time on a page and user session per page.
Now that you know about the factors that help in determining the quality of traffic. Let us show you the pros and cons of paid traffic.
Pros & Cons of Paid Traffic
Pros
Offers better visibility & scaling in a limited timeframe. Upon launching an ad campaign, you can expect visible results in 24 hours.
Better control of your activities. You can customize your budget, target a wider range of audience, create impressive ad content, format bidding strategies, and more.
Google's search algorithm doesn't disrupt the ranking of your ad. You can seamlessly run ads without worrying about the algorithm because even if there is a change in the algorithm, your ad won't drop down in the ranking.
Learning and running paid advertisements are relatively easy. You need to know about PPC and your business completely. Once you are clear with the fundamentals, you can run ads by setting up a successful paid campaign.
Cons
Target accomplishment relies on budget. You need a sufficient budget to run an ad because paid advertising is all about paying to gain visibility and growth.
Customer acquisition cost is higher. The cost will be based on the platform, ad type, industry, and specific campaigns. However, the cost of acquiring leads is significantly higher than other acquisition channels.
Some users can turn away by seeing the word 'ad.' Many users tend to skip ads thinking that they are not relevant to them or because they are disinterested.
Keywords can be costly and drain your budget in short intervals. Some keywords have low search volume but are highly in demand among advertisers, causing an increase in the price of keywords.
Ads need to be updated frequently. To stay relevant, competitive and gain consistent traffic to your website, it's imperative to update keywords, ad copy, optimize landing pages, and monitor your bidding strategy, ad scheduling, and competitor activity.
---
Also Read: How Is Ranking Different When Comparing PPC Vs SEO?
---
Does Buying Traffic A Good Idea?
Does buying traffic to your website work? The answer to this question is with you. If you want quick & reliable results and have plenty of budget, buying traffic is great! This shortcut not only helps bring traffic and business but also highlights your brand with zero negative impact.
Buying traffic is a recession-proof strategy that improves traffic, leading to brand awareness and boosting conversions. More importantly, the strategy won't impact rankings even after you stop leveraging it. Hence, buying traffic will only maximize the potential of your online business.
However, if you don't have the appropriate knowledge on the subject of paid traffic and abundant budget, we suggest you bounce back from the idea of buying traffic.
Besides this, we recommend you steer clear of the slightest drawbacks of paid advertising by following the pointers mentioned above.
➢ Does Buying Traffic Help With SEO?
Yes, but only indirectly. Paid advertisements don't have a direct impact on SEO. However, they can increase engagement on your site since you will be receiving high-quality traffic and increased user retention, which will indirectly improve your ranking on the SERPs.
Besides that, you might also gain social media engagement when your targeted audiences are redirected to your site through social networking platforms. They can like, share, save, and comment on your posts, stories, reels, and videos, enhancing your social media presence.
Last and most apparent is brand awareness. Buying traffic is the best way to increase brand awareness. It can give you the desired exposure to grow your site. Increased exposure equates to more inbound leads, elevated social media presence, and of course, indirect growth in the rankings.
However, paid advertising is not only the ideal choice for SEO. You must focus on the best SEO practices like content marketing, link building, and technical optimization to promote your growth.
4 Alternatives For Driving Traffic To A Website
1. Organic SEO
This strategy is an unrivaled way to achieve your goals. As mentioned previously, the strategy is time-consuming, although it can give you magnificent results and is perfect if you plan to achieve long-term growth.
You have to abide by SEO tactics such as blogging, content marketing, guest posting, determining industry-specific ranking keywords, optimizing the website, and updating the content and functionalities of the website to enhance user experience.
Sticking to the best SEO practices will lead to successful growth on SERPs.
---
Also Read: How Many Keywords Can A Website Have For SEO?
---
2. Content Marketing & Link Building
Content marketing and link building have a strong impact on traffic. By undertaking these strategies, you can grab users' attention and drive them to your website.
Content marketing involves drafting, publishing, and sharing content (blogs, videos, social media posts, etc) to encourage users to visit your website. You don't have to promote your services, products, or business explicitly. You can create content in relation to your business, products, or services.
Link building is one of the most preferred techniques in SEO. This activity refers to linking an external page or site to your content. If the link to your site or page is adjoined in other popular and authoritative websites or pages, you are likely to increase the ranking traffic to your site.
Moreover, these strategies will be more effective if they are combined.
---
Also Read: Best Content Management System Platform Optimized For SEO
---
3. Social Media Marketing & Advertising
Another common and widely used strategy – Social Media Marketing, where you promote the products or services of your company on different social media channels such as Facebook, Instagram, Twitter, LinkedIn, and so on.
Although, posting content is not enough. You must draft compelling and relevant content, urging users to like, share, comment, save, follow your social media accounts, and, most importantly, redirect to your site through the posted content.
Advertisements can also be called the same as social media marketing, where you draft ad copy to captivate users' attention. One difference between social media marketing and advertisements is that you have to spend plenty of bucks running ads and generating effective results.
---
Also Read: What Is A Sitemap & Why Do You Need It?
---
4. Influencer Marketing & Partnerships
The concept of influencer marketing is an incredible way to get brand exposure. This marketing tactic is paid but prevalent if used wisely. You need to sweat over finding the right influencers for promoting your services/products/business.
Of course, you have to give creative freedom to writers and influencers so they can promote your brand in the best way possible. Tracking the metrics is also necessary to ensure your campaign is on the right track.
Partnerships are also proven to be a substantial strategy in driving traffic. Partnerships can be done with an individual, affiliate programs, and businesses. You can use this opportunity to connect with your target audience, expand your reach, and gain credibility.
If you collaborate with the right partner by forming effective partnership campaigns that benefit both parties, you can reach your end goal without a hitch.
To Conclude
Hope this post gave you all the information you need to buy traffic for your website. If you plan to buy traffic, we recommend considering every aspect – your goal, timeline, and other traffic-obtaining options.
Having said that, if you decide to buy the traffic after evaluating everything, ensure you outline a well-defined strategy to get the best results out of your investment.