Riddle Time
I dominate the world of search engines,
Every novice and expert marketer leverages me to grow their business,
My process might be gradual, but the end results are revolutionary,
What do you think? Who am I?
Stop thinking! I am the only strategy every marketer aspires to master – SEO, also referred to as Search Engine Optimization.
This millennial strategy set its foot back in 1991. Since then, it has continued running in the race to become a priority for marketers and business owners to rank top in search engines. Today, it has successfully accomplished its goal.
Over the few years, the impact of SEO has drastically changed. In the last 10 years, there have been 16 significant updates in Google's algorithm associated with SEO. Leading to marketers questioning its relevancy and confusing tactics.
Curious to know more about SEO? Below we have drafted detailed information on who uses SEO and whether it has the same impact in 2023.
Is SEO Still Relevant In 2023?
If we had to say whether or not SEO is relevant in 2023, it would be YES! This marketing tool is still effective if used correctly. Today 90% of marketers believe that SEO is a fundamental strategy in 2023 because even though it is a long-term strategy, it generates unparallel results without high monetary investment.
In fact, it is an excellent method if you want to rank on top organic search. 8.5% of mobile searches and 8.7% of desktop searches results on page 1 in Google.
The above statistics show that SEO is arguably the most valuable marketing method and will always remain at the forefront for the long-term growth of your business.
Why Does SEO Matter?
The evolution of search engines has been quite interesting. Back in time, it was only limited to the quantity of the content and keywords, but now times have changed. If you want to appear at the top of search queries, you must follow certain practices, such as
➢ Publishing relevant and easy-to-understand content.
➢ Add trending & high-performing relevant keywords to your targeted web pages, titles, & descriptions.
➢ Generating backlinks through guest posting, following competitors, uploading testimonials, listing your website on authoritative domains.
➢ Using Alt tags or alternative text descriptions to provide the location of your page on search engines.
➢ Keeping your site up to date using a reliable hosting service, making it mobile responsive, removing unnecessary database & cache, and utilizing high-quality & resolution and device-optimized creatives to ensure your site gives a seamless performance and user experience.
➢ Measuring performance metrics to avoid bounce rate, crawling errors, and gauging your growth.
Considering these effective SEO practices and keeping an eye on them will give authority to your site to reach the audience related to your business while enhancing its performance on search engines.
➢ What Are The 3 Key Areas of SEO
SEO functions mainly in 3 areas –
1. On-page SEO
2. Off-page SEO
3. Technical SEO

On-Page SEO – Activities you conduct on your site, such as creating blogs, webpages, product/services pages, optimizing URLs, titles, tags, descriptions, structured data & doing internal linking.
OFF-Page SEO – This refers to actions conducted far apart from your website. For instance – creating backlinks, content marketing, podcasting, video marketing, social media marketing, guest blogging, forum posting, local listings, etc.
Technical SEO – This SEO component focuses on the technicalities of a site to improve search engine rankings. Crawling, indexing, rendering, site architecture, structuring data, removing duplicate content, canonical tags, fixing 404 error pages, 301 redirecting, and Hreflang are a few aspects that must be considered for technically optimizing your site.
---
Also Read: 15 Best SEO Audit Tools For Your Website (Free+Paid)
---
➢ Why Are SEO Strategies Important?
In simple terms, planning a full-proof SEO strategy is crucial for achieving your primary business goals. Be it any objective – generating traffic, increasing leads, creating brand awareness, or strengthening domain authority – you need to implement effective SEO tactics to bring out positive results on your site rankings.
Now that you know about the competencies of SEO. Let us explain to you what industries need SEO the most.
---
Also Read: Best (Paid+Free) SEO Tools For The Best Performing Website
---
Industries And Sectors That Need Local SEO
Here is the list of Industries that require local SEO for their businesses. Let's dive into it:
1. General And Local Service Industries
Local services typically include tutoring, pest control, babysitting, libraries, courier services, water supply, salon services, pet services, carpenters, telecommunications, transportation, mechanics, etc.
Do you know why these businesses need to optimize their business locally? Because there are active search queries by users for daily needs. And if you want to grow your business, you need to have a local listing and an effective local SEO strategy.
Let's say – A user concerned with a plumbing problem goes to Google and searches for a 'plumber near me' or 'plumbing services in Toronto, Canada' 50-100 search results appearing below are not the main focus because anyone can reach that list.
Your emphasis should be laid only on the first three results because they have built an ideal local SEO strategy mentioning all the SEO-focused details, such as keywords, relevant services/products, map integration, site optimization, etc.
2. Healthcare Industry
Healthcare is one of the biggest industries around the globe, providing medical aid, medical equipment, medications & drugs, medical insurance, and facilitating ailing patients.
Dentists, gynecologists, naturopaths, chiropractors, cardiologists, ENT specialists, orthopedic surgeons, pediatricians, and other medical practitioners can benefit their hospitals, clinics, or other outpatient care centers through local SEO optimization.
Local SEO is very potent, especially for this industry. Not only to grow the sector within the vicinity but also to provide appropriate information regarding the services to natives and curate a seamless experience for patients – starting from searching for a doctor to scheduling an appointment and visiting the expert through the location.
When you list accurate data to appear in local search results, you basically increase visibility and build credibility among your target audience.
For instance – a woman searching for a 'gynecologist in Texas, the USA', the results matching the search query will appear on top.
According to Google's algorithm, proximity (location), prominence (popularity of a business, and relevancy (correspondence of your product/services with a user's search query) are the three vital components of local ranking.
If you have mentioned all of the information correctly, you will automatically appear at the top of the search results.
Besides the above-mentioned factors, you must include relevant and high-performing keywords in your product/service pages for people conveniently locate you.
3. Food And Beverages Service Industry
The food and beverages service industry is believed to be the fastest-growing industry because of consumer demand and consumption. Every day many foodies head out to hog their favorite foods and drinks.
This industry encompasses businesses such as pubs, restaurants, bakeries, coffee shops, caterers, grocery stores, general stores, dairies, etc.
Still, many cafes, restaurants, and hotels remain unseen due to zero visibility on the Internet. Leveraging SEO can help them climb up in the search rankings and show the targeted audience that your store, restaurant, and coffee shop are near their location.
Listing your business under Google Business Profile is advised because this is the sure-shot way to rank on top in the search engines.
Imagine – whenever users search for a 'grocery shop in Seattle,' or any related queries, all of the traffic gets diverted to your site. This is the power of local listing. It empowers your site by just adding accurate & relevant information and adhering to local SEO practices.
4. Home Services And Repair
This sector generally includes service providers like painters, plumbers, renovators, electricians, furniture assemblers, general contractors, home decorators, etc.
Home services are like a boon in this modern digital epoch where everyone are engaged in their lifestyle. Since people don't have sufficient time on their hands, utilizing such services for their needs is an excellent way to get the work done. These services help you with your home care needs at your convenience and comfort.
But what if your business is not locally listed? Just think about it. All your competitors are moving forward in the race, and you're stuck in the same rut. Wondering why? It's because you have not locally optimized your business.
You might have a website and an established business in Bradford, but now you want to expand your business in the entire Manchester City.
But How?
Well, dear reader, local SEO is your true and only friend!
Google algorithm is powered by local maps and Google Business Listing. Once you optimize for local search, you send a signal to Google that your business is based in a particular part of the city, which in this case, Bradford, Manchester. This increases your online presence and helps natives discover your business with an integrated map on your site.
But if you're having trouble improving your ranking, you could hire a marketing company to do it for you. For example, if you're a roofing business, you can find a company like Socius to create and launch a roofing marketing plan. 
5. Professional Service Industry
You might have asked several of your clients how they found you. Often people replied by saying – 'online or Google.' Today's world is ruled by the internet. People tend to rely on search engines for almost everything they want. Hence it is paramount to list your business locally to never miss out on your potential customers.
This service industry comprises professional providers such as accounting, financial advisors, CA, investment brokers, architects, advertising & marketing, and other consultants that offer their expertise to interested clients.
Local SEO is ideal for such professional services. It can give you more customers and competition that you need to thrive in your business. Plus, if you offer professional services, you need to build an online authority so that people don't get second thoughts before heading to you.
6. Legal Services
Getting a reliable, reputed, and knowledgeable legal representative equates to the right to a fair trial. Every accused or charged individual hopes to get so. In doing so, most turn their heads to Google to find an appropriate lawyer.
The type of legal service providers that can gain clients from local SEO includes – legal advisors, paralegals, and lawyers.
If your law firm, corporate office, or you perform local listing as an individual advocate, you welcome potential clients to your doorstep. Local SEO gives you constant clients who are in search of legal entities or firms ready to fight and serve them justice for their case.
7. Real Estate
One of the most lucrative industries in the world is real estate. This not only provides a steady stream of income for brokers but also for investors. Every day, many buyers seek a dream home but cannot find a reliable and expert realtor like you because you don't appear in the search result.
This is where you miss out!
But Hey, worry not!
Because now you are reading this blog. When you do local SEO for your business, you basically open a door for potential buyers to utilize your services to get their new home.
Relevant keywords, pincode, specific state, or city of service are advised to add to your local listing as this allows a buyer to find you easily. They can simply search for any of the above-mentioned attributes, and your business will be found at the top of the search engines.
Real estate agents and companies can encourage their business growth from a local listing.
Since you know about SEO industries, we shall now give you an overview of which businesses require organic SEO.
---
Also Read: What Are The Benefits Of A Website For Small Businesses
---
Businesses That Require Organic SEO
Here is the list of Industries that require Organic SEO for their businesses. Let's dive into it: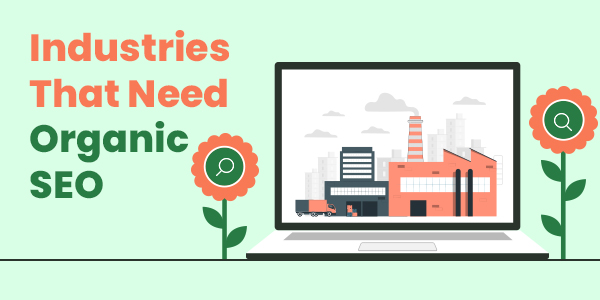 1. eCommerce Business –
eCommerce has transformed the face of the world. Today, 2-3 million companies around the world run an eCommerce business because it grabs potential customers' attention and shapes your business's identity.
Although building an eCommerce business is not enough, you must adopt certain SEO methods to drive organic traffic to your online storefront. This includes optimizing website pages for on-page SEO, off-page SEO, technical SEO, and local SEO.
Following these 4 main aspects of organic is sure to give you effective results in the long run.
---
Also Read: 17 Top Technical Requirements For Your ECommerce Websites
---
2. Blogging Website
If you are a writer, you know why it is important to be consistent. The same goes for organic SEO. Even though results may take some time, you can surely increase your visibility on search engines.
Organic SEO is undoubtedly a significant tool for your blogging site if you write quality content with relevant keywords, click-bait titles, descriptions, and structure.
You also need to optimize your site, blogs, and promote them properly to get links from the authoritative domains. Following these certain guidelines will give you surprising results, and you will thank us later.
If you are an experienced writer desiring to start an online blogging website, your main priority would be to increase the site's ranking on SERPs and grow your reader base. Thankfully, you already know about your goals,
But, What's the Next Step?
The relevant answer to this question is Organic SEO.
Mind you, Organic SEO is not child's play. You need to be consistent and dedicated like you would do in content writing to see visible results.
Following certain practices, such as creating quality and relevant content, crafting click-bait titles & unique descriptions, optimizing a site & blogs, keyword research, identifying your competition, and technical SEO like optimizing URL, creating a sitemap, and internal linking, is recommended.
You also need to promote your content on various platforms like Social Media and get backlinks from authoritative domains.
3. Travel Business
If you manage an independent travel business, your end goal would be increasing travel bookings. But that's hardly possible with an offline business. Today, most travelers, explorers, and adventurers seek the internet to find traveling websites providing great deals. Even though your offline business might provide great deals for memorable destinations and many other amazing services, they won't be aware of your existence if you don't appear on the SERPs.
This is why we recommend you consider conducting the best practices of organic SEO. Mobile-friendly website, appealing visual content, optimizing your site for local SEO, creating destination pages to get bookings from targeted cities & states, performing technical SEO like accurate usage of canonical in SEO, and correct configuration of webmaster tools are advised.
Besides these, off-page SEO should be leveraged for link building, and blogging on travel-related topics is another great idea to generate traffic.
Understanding the fundamentals of a travel booking journey, Google Analytics and visitors' micro & macro goals is crucial.
Following these aspects will not only generate leads, traffic, visibility & increase authority on SERPs, but it is also a cost-effective way to achieve your goals.
---
Also Read: Best Content Management System Platform Optimized For SEO
---
4. News And Magazine Website
Generally, the goal for news and magazine publishers is to generate traffic, maintain a base of readers, and increase the average reading time of users. This is why organic SEO for publishers is extremely crucial. However, you need to have patience and make a little effort to bring prominent results.
You must ensure the titles, headlines, content, and descriptions are structured accurately. They also need to be factual and related. Including a subscription letter dialogue box and a subscription fee to read the rest of the content can also be regarded for adding on.
Since many users prefer using mobile for reading the daily news, it is advised to make your site mobile-friendly for a seamless user experience.
---
Also Read: How To Fix A Slow Website?
---
5. SAAS-Based Business Website
SAAS-based, also known as software as a service, is more like a website available on the internet for users to use as a service. Normally, a user installs or downloads an application on a PC or mobile, but you can simply access the software through the internet.
You can also call it web-based software, and some examples of SAAS-based companies are Zapier, Figma, Gmail, Slack, Microsoft Office 365, Netflix, and many more.
If your company already has already cracked the code of brand awareness, it needs a little push from the organic SEO. There are various SEO strategies your SaaS business can try and link building is one of them. By collaborating with SaaS link building agencies, you can drive targeted organic traffic to your site, complementing your existing brand awareness efforts and helping your SaaS business establish a strong and competitive online presence.
This strategy can boost your credibility, get competitive advantages, help you reach out to a wider audience, improve user experience with a well-maintained site, appear on top in SERPs, and improve local ranking while saving money compared to other tactics.
Hope this above explanation about the best industries for SEO and its fundamentals gave you a clear picture of why you should leverage organic SEO for your website as well. We will now guide you on how much it costs if you start getting SEO services for your business.
SEO Cost If You Are Just Starting Out
It all comes down to how much you are ready to invest. Generally, the cost depends on the package you want and the cost surrounding it. Besides that, the cost will differ if you hire a full-time resource for your company.
Be it hiring a marketing firm or a team of freelancers. Each of them will offer you different packages. The average packages are as follows –
➢ $750 to $2000 every month 
➢ $80 to $200 hourly based
➢ $5000 to $30,000 & based on the project
If you are confused about which package to choose, we recommend you go for monthly packages. Because they are much more affordable compared to the hourly-based model, you can convey your goals & ideas, and the team will perform the tasks consequently.
As mentioned above, the monthly-based model is between 750$ and 2000$. The agency or freelancer will charge you based on the tasks.
Building your own team is also an excellent and cost-effective strategy, as the resources will dedicate their time to completing your work. But the pay scale will depend on the experience you want.
If you are looking for an experienced candidate, you will have the pay based on the resource's knowledge, experience, and demand. The average cost for hiring an experienced resource is $50,000.
Although, your job doesn't end here. You also need to get in touch with other resources like a content strategist, a few SEO writers, and an editor, which will increase the cost. This is why we recommend hiring a freelancing team of writers with editing and proofreading skills.
Besides that, getting a dedicated strategist from the company or hiring a full-time strategist for your company is recommended. Both of you can convey your ideas and thoughts regarding your goal and build a strategy focusing on it.
SEO – A Must For Every Business
Regardless of your business type, SEO services are necessary for you. As mentioned above, it gives you everything you need – visibility, brand awareness, growth, lead generation, traffic, conversions, and increase session duration.
However, this gives significant results over time. The process does not work in a flash. Constant activities and making your pace will give you visible results in a 4-6 month duration. And if you stay consistent, by the end of the year, you will achieve your desired goal.