Remember when you rigorously studied in school, stayed up late, took tough tests, and anxiously waited for your results?
Well, prepare for a little déjà vu because you'll experience a similar mix of anticipation and anxiety when your website goes live. You'll be eager to learn how well your website operates, how many people view it, and whether it accomplishes your objectives.
In this blog, we will discover what website traffic is, why it is important to keep a check on your progress, and what are the ways to do so.
Understanding Website Traffic
Imagine you're excited about attending a seminar. However, you must finish the registration process before attending it. Why do you need to do this? This is because the seminar's organizers want to learn more about those attending.
They want to know how many people are coming, who these individuals are, and how many find the seminar valuable or relevant. This information is important since it helps the organizers plan and organize similar events in the future based on the level of interest and participation they observe.
Website traffic is just as similar. Website traffic refers to the number of visitors or users who access a particular website over a specified period of time, typically measured in days, weeks, or months. It is a crucial metric for website owners and digital marketers, providing insights into a website's popularity, reach, and effectiveness.
Website traffic can be categorized into various sources, including organic (from search engines), direct (users who directly type in the website's URL), referral (traffic from other websites or links), and social (from social media platforms).
Analyzing website traffic helps website owners understand their audience, track trends, and make informed decisions to improve user experience and achieve their online goals, whether increasing sales, engagement, or brand visibility.
---
Also Read: Does Buying Traffic To Your Website Work?
---
Importance of website traffic for businesses and website owners
In this digital age, it is important to have a website for your business. It is like keeping up with the trends on social media, moving along with the crowd, and being a part of the crowd.
If you want your business to thrive in the retail as well as the digital world, taking appropriate measures is necessary. It is equally important to keep track of the progress, and one of the ways to do that is website traffic.
Here are some of the reasons why website traffic is important for businesses:
Brand Exposure: Website traffic is necessary to enhance the visibility of your website and brand. You raise brand awareness among potential customers and the number of clicks with each visitor.
Lead Generation: Website traffic is a useful source for generating leads. Anyone visiting your website may become a potential customer of your products and services. You can grab their attention through forms and calls to action.
Sales and Revenue: Website traffic directly impacts sales for eCommerce websites or businesses with an online store. More visitors mean more potential customers and more conversions and revenue.
Content: Monitoring website traffic helps you gauge the performance of your content. You can see which pages are most popular and which topics resonate with your audience, and use this data to refine your content strategy.
SEO and Search Rankings: Search engines often consider website traffic when determining rankings. High traffic signals to search engines that your site is valuable and relevant, improving your position in search results.
User Engagement: Analyzing traffic metrics like bounce rate, time spent on site, and pages per visit can provide insights into how engaged your audience is with your content. This information can help you improve user experience and engagement.
---
Also Read: Website Optimization Tips To Increase Website Performance
---
Website traffic is not just about numbers but also the potential for growth, engagement, and success in the digital age. Making informed decisions and achieving your digital objectives requires constant monitoring and knowledge of website traffic.
Ways to Find Website Traffic
Now that you're familiar with the term website traffic and its importance for businesses, here is how to find website traffic for your business through Google Analytics.
Monitoring Website Traffic for Your Business
1. Google Analytics
➔ Setup Google Analytics
The first step is to create a Google Analytics account.
After creating an account, you must create a new website property and generate a tracking code. Follow the on-screen instructions to do this.
➔ Add Tracking Code to your Website & Data Collection
You'll receive a tracking code. Place this code into the HTML of your website.
It allows Google Analytics to collect data from your website. The process of data collection usually takes about 1-2 days.
➔ Website Traffic Statistics
Once the data is collected, log into your Google Analytics account and click on the property in the menu section on the left side.
➔ From the property dashboard, you can view your website's traffic reports.
➔ Traffic Reports
Some commonly used reports are Real-time, Acquisition, Engagement and Retention.
➔ Customize and Set Up Goals
You can customize your reports and set goals to track specific actions directly impacting your business, such as eCommerce transactions, email/newsletter sign-ups, etc.
Regularly Monitor and Analyze Data
Regularly monitoring your website traffic helps you identify current trends, patterns, and areas for improvement. This can help you make better decisions based on the data and improve your website's performance.
Once you start using Google Analytics for website traffic and track your progress, there's no going back. But you shouldn't limit your attention to just that. In any industry, you are bound to face competition, and it is said that you keep your friends close and your enemies closer.
Following this saying, it is essential to monitor the strategies employed by your rivals. Now that you have access to their data, you may evaluate it and modify your strategy as needed.
---
Also Read: How Many Keywords Can A Website Have For SEO?
---
How do you do that?
Here are a few tools that can be used to monitor and collect information about your competitors.
Monitoring Website Traffic for Competitor's Business
1. SEMrush
SEMrush is a digital marketing and SEO (Search Engine Optimization) platform that provides data to assist website owners and digital marketers in optimizing their online presence, raising their search engine ranks, and examining their rivals.
One of the features offered by SEMrush is the ability to check website traffic, among other things.
How to Check Competitor's Website Traffic?
To check the website traffic for your competitors, follow these steps:
➔ Sign-up: The first step is to sign up for a SEMrush account. They provide a free trial with limited access and subscription options for more in-depth research.
➔ Enter the domain: After you've successfully logged in, you'll see a dashboard and a search bar. You can enter the URL/domain of the website for which you want to check traffic.
➔ Traffic Analytics: SEMrush provides a summary of the traffic for the specific website that you're looking for. You have to just go to "Domain Overview" & enter the domain you want to check traffic for. The metrics included here are:
1. Organic Search Traffic: The number of visitors who visit a website organically through search engines like Google.
2. Paid Search Traffic: The number of people who visit a website as a result of paid advertising campaigns.
3. Backlinks: The number of backlinks pointing to the website.
4. Keyword Rankings: Information about the keywords for which the website ranks in search engines.
5. Traffic Sources: A breakdown of the sources of traffic, such as organic, direct, referral, and social.
Why SEMrush?
Being one of the leading tools, it offers numerous benefits when checking website traffic, including insightful information about the organic and paid search traffic of a website, which helps users assess their online visibility and the success of their SEO and advertising efforts. The competition analysis feature of SEMrush also enables customers to compare their performance to that of rivals and spot room for improvement.
Additionally, it offers data on specific keywords driving traffic to a site, helping refine content and SEO strategies. Due to its user-friendly design and detailed analysis, the tool is a valuable asset for digital marketers, website owners, and companies looking to optimize their online presence and stay ahead in the digital world.
➔ Analyze Traffic Trends: SEMrush also offers historical data that you may use to track changing traffic patterns. You can see changes in traffic, rankings, and other metrics.
➔ Comparison with Competitors: SEMrush enables you to assess your rivals' performance and website traffic data. This helps you identify areas for improvement as well as competitive advantages.
➔ Access Detailed Reports: You can export detailed reports and insights for further evaluation or sharing with your clients or team.
➔ Additional Information: For SEO and digital marketing, there are additional services like keyword research, site audits, and content analyses that can help you increase the traffic and effectiveness of your website.
---
Also Read: Top Industries That Can Benefit From SEO In 2023
---
2. Ahrefs
Ahrefs is one of the most popular and comprehensive toolsets that offers a wide range of features to help website owners and digital marketers improve their online presence.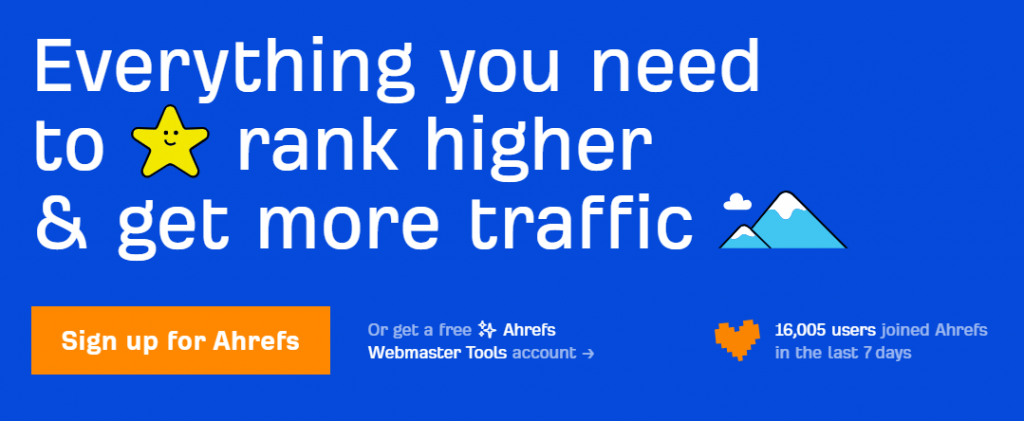 Analyzing website traffic and backlink data is one of its primary features, which can be essential to comprehend and improve a website's performance in search engines like Google.
Here's how to use Ahrefs to check website traffic:
➔ Registration: Create an account on the Ahrefs website to register. The company has a paid subscription model as one of its strategies. Choose the pricing strategy that best suits your company's needs from the variety it offers. It also offers a free plan with a few features and limited services.
➔ Enter the Website URL: After logging in to your Ahrefs account, enter the website URL on the search bar visible on the dashboard.
You will receive an overview of the performance of the website once you enter the URL of your choice.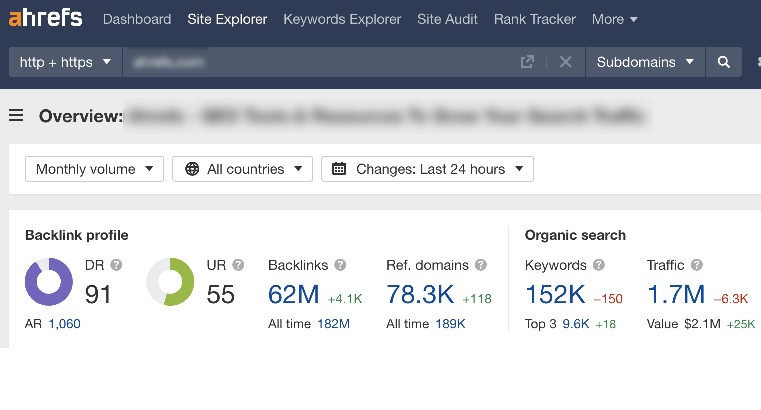 Here, the metrics are:
Domain Rating: This metric evaluates the backlink profile of a website's overall authority.
URL Rating: This metric is similar to DR, but it measures the authority of a specific URL.
Organic Search Traffic: It offers an estimate of the monthly volume of organic search traffic to the website.
Backlinks: Details on the amount of referring domains and backlinks leading to the website.
Keywords: Number of keywords that the website is listed for in search results.
➢ Detailed Traffic Analysis: You can access Ahrefs' Site Explorer or Site Audit sections to learn more about a website's traffic. Enter the website's URL in the Site Explorer to gain access to information on organic search traffic, keywords, referring domains, and much more.
➢ Traffic Overview: Here, you can see a graph of the website's estimated monthly organic search traffic over time.

➢ Keyword Analysis: Ahref lets you analyze keywords that a website uses to rank at the top of the search engines. You can examine each keyword's estimated traffic generation, ranking position, and keyword search volume here.
➢ Backlink Analysis: Ahrefs offers extensive analysis tools, allowing you to see the websites linked to the analyzed website.
➢ Competitor Analysis: You can compare your website's traffic, keywords, and backlink profiles with your competitors.
Why Ahrefs?
Ahrefs is one of the best SEO tools with several advantages for analyzing website traffic. To begin with, it offers thorough and latest data about a website's organic search traffic, assisting users in understanding which keywords are bringing in visits and the effectiveness of their SEO campaigns.
Ahrefs also provides information on a website's backlink profile, assisting users in locating high-quality linking domains and possible areas for development. Its site audit feature can identify technical SEO issues affecting traffic.
Additionally, Ahrefs provides competition analysis, allowing customers to compare their performance to that of competitors and find untapped potential. Overall, Ahrefs offers entrepreneurs and digital marketers useful information and insights to enhance their online presence and attract more relevant traffic.
---
Also Read: Can I Blog To Improve The SEO Of Website?
---
3. SE Ranking
SE Ranking is another SEO tool that enables you to carry out important tasks like keyword research, competitor analysis, rank tracking, website audits, backlink checks, and much more.
Anyone who operates a business, including SEO experts, business owners, entrepreneurs, and agencies, can benefit from this tool.
How to use SE Ranking?
SE Ranking is an easy tool to set up and utilize. Follow these steps to get insights on website traffic:
➔ You have to start by logging into your SE Ranking account. If you don't have an account, you will need to sign up first.
➔ If you're using this tool for the first time, you must add a project (a website URL) that you want to track.
➔ You have to add some details like your website's URL, Search Engines your want to track for, Location, & your target keywords.
➔ Once this gets done, navigate to the "Competitive Research"
➔ In that competitor analysis section, you can enter the URL of the competitor's website you want to analyze.
➔ This will provide you with various metrics related to your competitor's website traffic such as the number of visitors, organic search traffic, paid search traffic, backlinks, and much more.

➔ Utilize the backlink checker to find rival backlink profile information and use it to enhance your link-building strategy.
Why SE Rankings?
There are many benefits of using SE Ranking as a tool to check your competitors' website traffic. It provides a 14-day free trial on the initial basis to experience and then make a decision to a paid plan.
You can use this tool to gather the right keywords, competitor website keyword ranking data, backlink checker for quickly finding and analyzing a competitor's domain link profile, website audits, detailed SEO software progress reports, and many others.
---
Also Read: 15 Best SEO Audit Tools For Your Website (Free+Paid)
---
4. Serpstat
Serpstat is a growth hacking tool for SEO and PPC. Along with this, it is also the best for content marketing. It supports you with keyword research, backlink analysis, and domain and website analysis. Any company or marketer, from small to medium-sized businesses or agencies, can profit from adopting this technology to accelerate their growth.
How to use Serpstat?
➔ To access Serpstat, you must have the login information. Log in to the tool after creating an account to access the metrics.
➔ The homepage consists of a search bar. Enter any website URL that you want to see the traffic for.
➔ Use the keyword analysis metric to explore a wide range of trending SEO and paid keywords that are used by your competitors to rank higher. In addition, it evaluates how websites appear in the search results for the top-performing keywords. A higher level of visibility implies a greater volume of traffic.

Why Serpstat?
Serpstat has several benefits as it offers several choices to analyze your competitors' website traffic.
Here is a list of these attributes:
With domain analysis, you may get a quick snapshot of a website's search visibility, monthly search traffic, and top keywords.
Backlink analysis is one of the most popular features on Serpstat. You'll receive information on the top referring URLs, new prospects for link building, lost and gained backlinks, types of backlinks, the best-performing anchor text, possibly risky backlinks, etc. You can use a rank tracker to keep track of changes to your search engine result page ranks.
There are other additional features that you can employ in addition to those mentioned above, depending on the requirements of your business. It allows you to Compare your website traffic to your competitors, allowing you to make an informed decision.
---
Also Read: Click-Through Rate (CTR) Vs Conversion Rate: All You Need To Know
---
5. Ubersuggest
One of the digital marketing experts, Niel Patel, created a tool called Ubersuggest that helps website owners, marketers, and SEO professionals improve their performance in search engines like Google. This is an easy-to-use tool with a free plan for those looking for a trial version.
How to use Ubersuggest?
➔ You must first sign up for an account on Ubersuggest in order to check the website traffic of your competitor.
➔ After signing up, It will begin with your website tracking procedure as this tool allows you to set up your project. You have to enter your website details like your website's URL, target language, target country, target keywords & competitors.
➔ Once it gets set up, you have to check the section "Traffic Overview" to monitor your competitor's traffic.
➔ Enter the competitor's website you want to track in the search box

➔ It will provide you information with an overview of your competitor's website, including their estimated monthly organic search traffic, domain authority, backlinks, and more.
You have to scroll down to check more details, such as top-performing pages, organic keywords, and the number of backlinks. You can also explore paid advertising data if available.
Why Ubersuggest?
Ubersuggest is a user-friendly and affordable tool that helps you get a more in-depth analysis of its extension design, which enables you to access valuable data anywhere in the world.
With this tool, you can easily organize your keyword research, do a more thorough competitor analysis, and examine backlink information and traffic links. Once you create a project, Ubersuggest will automatically crawl the website and notify you when new SEO issues arise.
---
Also Read: What Should You Consider When Developing Website Content?
---
6. Similarweb
Similarweb offers a broad spectrum of statistical data solutions like competitive market research, keyword optimization, competitor analysis, ad research, and many more.
How to use Similarweb?
➔ Firstly, You need to visit their website & enter your competitor's website URL.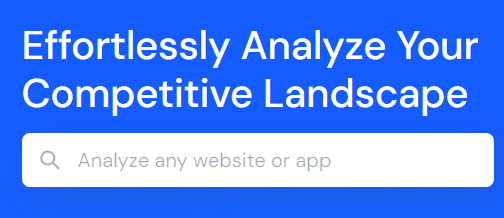 ➔ In their free plan version, you will get the website's monthly traffic, engagement, and keyword search traffic, and also be able to find out the major marketing channels that drive traffic on their website.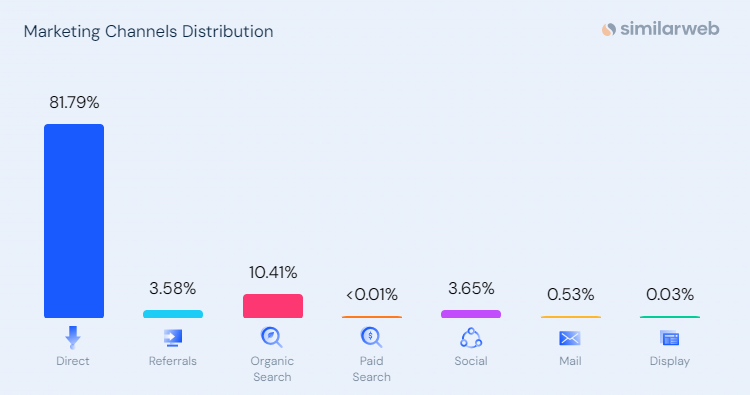 Why Similarweb?
Similar Web only focuses on website traffic analysis since we have already identified other tools that offer insights into digital marketing as a whole. You can find the worldwide, national, and category rank of website traffic by searching for a competitor's website traffic insight.
Average visit time, pages per visit, and top traffic sources are just a few of the basic interaction data statistics that are generated.
A complete study of the best-performing paid and organic keywords on the website.
You can find other audiences on the similar web that are engaged and frequently visit your website.
Both free and premium programs are available; select the one that best meets your needs. Although the free plan only provides 5 results per metric, you can rely on other subscription plans for more.
---
Also Read: How To Organize The Content Of Your Website?
---
Frequently Asked Questions (FAQs)
1. How accurate are these traffic estimation tools?
Any website traffic estimation tool cannot provide a 100% accurate result. The accuracy can vary depending on a number of factors, including the techniques they use, the data sources they employ, and the particular website under evaluation. 
2. How often should I check my website's traffic data?
Depending on your individual goals, the size and type of your website, and the resources at your disposal, you should monitor your website's traffic data on a regular basis. 

Always remember that the trick is to establish a balance between monitoring the operation of your website and not becoming overburdened by continual data analysis. Create a monitoring schedule compatible with your website's objectives and available resources, and make necessary adjustments when conditions change.
3. Are there legal and ethical concerns when accessing website traffic data?
Yes, accessing website traffic data raises legal and moral issues. Privacy, consent, data protection, and adherence to pertinent laws and regulations are addressed here. Failing to handle these moral and legal issues could result in penalties, legal repercussions, and reputational harm. 

Therefore, when accessing website traffic data, it's essential to be aware of and follow all applicable laws and ethical standards.
4. How can I improve my website's traffic based on the data?
Analyzing your website's performance metrics, comprehending user behavior, and putting methods in place to draw in and keep visitors are all necessary to increase traffic based on statistics.

To increase the amount of traffic to your website, you can do the following: 

Analyze website performance, identify key performance indicators, understand your audience, competitor analysis, content optimization, SEO and SEM, technical optimization, user experience optimization, A/B testing, local SEO, and many others.

Remember that increasing website traffic is continuous, and significant changes may not be visible immediately. Long-term success depends on consistency, data-driven choices, and a user-centric strategy.
Conclusion
Just like when you were in school and took necessary measures to improve your performance to score better, it is essential for business owners and digital marketers to analyze the website traffic of their and competitors' websites.
Why? It provides insights on various factors, such as keyword analysis, detailed SEO software progress reports, competitor's domain link analysis, website audit, and many other reports that can help make future decisions and improve business strategies accordingly.
A website's traffic, which comes from various sources such as organic, direct, referral, and social, offers significant information about its popularity, success, and accessibility.
Websites can help businesses attract more visitors by reaching out to a wider audience, generating potential leads, boosting sales and revenue, enhancing user interaction, and optimizing their content strategies. SEMrush, Ahrefs, SE Rankings, Serpstat, Ubersuggest, and Similar Web are just a few tools that provide ways to evaluate and analyze website traffic.
These tools offer useful information for enhancing online presence and remaining competitive in the digital environment. Using internet traffic statistics to improve a website's performance and achieve long-term success requires regular monitoring, ethical data handling, and data-driven improvements.