Introduction
As a small business owner with limited resources and finances, email marketing campaigns will give your business a significant boost. In today's digital landscape, wherein 84.3% of customers check their emails daily, understanding the benefits of email marketing will be instrumental in shaping your marketing strategy and effectively reaching your target audience.
With its cost-effectiveness, ability to generate high engagement and unparalleled reach, email marketing is a powerful tool for small businesses to drive growth, build brand awareness, and establish long-lasting customer relationships.
In this article, we'll explore the importance of utilizing email marketing as a small business, highlighting its biggest benefits. We'll also give some examples to further boost your mastery of it. By the end of this, you will know how to maximize your email marketing strategy and use it to improve your bottom line.
Must-Know Benefits Of Email Marketing For Your Business
Whether you're a startup looking to grow your customer base or an established business looking to improve your marketing ROI, do not underestimate these email marketing benefits.
So, if you're still on the fence about it, here are convincing reasons to finally unlock the power and benefits of email marketing for your business. Let's start.
---
Also Read: What Are The Benefits Of A Website For Small Businesses
---
1. Find Better Quality Leads
Creating and sharing educational content or offering incentives helps you encourage potential customers to provide their email addresses and become subscribers. Once you have their contact information, you can send relevant messages that nurture these leads and guide them through the customer journey.
To start building your email list, consider adding sign-up forms to your website or social media channels. This can be a simple form that asks for the user's name and email address in exchange for something of value, like access to an exclusive video, monthly newsletters, or a how-to guide.
Once you have a contact list, it's important to segment your subscribers based on their interests and behavior. This allows you to send more targeted emails that are more likely to result in qualified leads.
However, as an email marketer, the key is to provide valuable content and not to spam them with irrelevant messages. Sending regular emails with engaging informative content allows you to build trust, establish relationships with potential leads, and turn them into paying customers.
---
Also Read: Why Are My Emails Going To Spam? 10 Ways To Prevent It
---
2. Generate High Return On Investment (ROI)
As an entrepreneur; you want to make the most of your marketing budget while driving sales. Fortunately, email marketing campaigns are less expensive than print advertising or TV ad campaigns. Thus, you'll reach potential clients at a fraction of the cost of traditional marketing methods.
According to Litmus, the average ROI for email marketing is $36 for every $1 spent. As a small business with limited funds, that's a significant ROI. Every penny counts, especially if you're a startup business selling high-ticket products, which means you invested a huge capital.
For instance, you can send out emails to potential clients highlighting the benefits of switching to solar energy. The cost of sending these emails is significantly lower than running a print ad or organizing a direct mail campaign. Plus, with email campaigns, your message is sent to your ideal audience.
---
Also Read: 15 Best Websites For Entrepreneurs In 2023
---
3. Enable Personalized Communication
With an effective form of communication, you will build relationships with your potential and current customers. You can deliver relevant content to your subscribers using personalized emails. Thus, increasing engagement and building stronger connections.
Here are some ways you can personalize your marketing emails:
Using the recipient's name in the email subject line or greeting.
Segmenting email lists based on customer behavior or interests.
Personalizing content based on past purchases or website activity.
Sending targeted emails based on the recipient's location or demographics.
Sending automated emails triggered by specific actions like abandoned cart reminders or follow-up emails after a purchase.
What's more, personalized emails also play a crucial role in the customer journey. Understanding where your potential customer is in the sales funnel allows you to send targeted emails that move the customer toward conversion.
For a case in point, let's say you're selling baseball pitching machines. You can send an email to potential customers who have visited your website but have not yet made a purchase. This email can include relevant pieces of content like product demos and customer testimonials to educate baseball players and encourage them to make a purchase.
The content can highlight how the machines will help hone their baseball skills if they use a pitching machine. You can even include videos of other players or customers that show their progress in skills as a part of marketing.
In addition, calls to action (CTAs) are another essential component of personalized emails. CTAs prompt email users to take action, whether to make a purchase or even sign up for your monthly newsletter, while dynamic QR code generators provide a convenient way for users to engage with your content instantly on mobile or desktop.
It increases the chances of conversion and improves the ROI of your email marketing efforts.
---
Also Read: How Is Ranking Different When Comparing PPC Vs SEO?
---
4. Increase Website Traffic
Strategic planning is key to achieving this goal, as including relevant links to landing pages, product pages, or blog posts in email campaigns will encourage subscribers to visit your website. The image below shows an example of how you can link your blog posts or articles in your email message.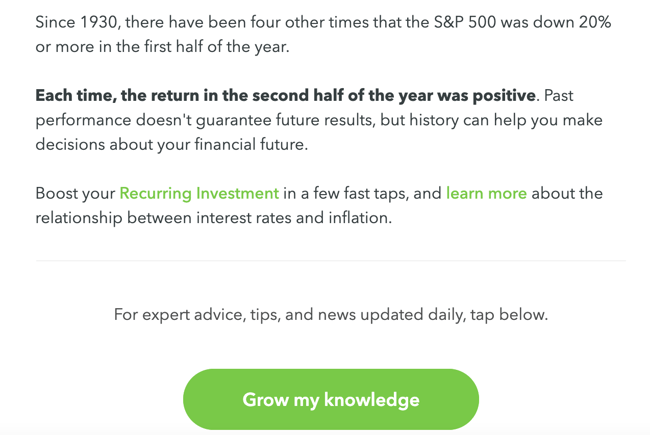 You can also use dynamic content in your emails to create personalized experiences that cater to the interests and needs of your email subscribers to encourage them to click a link to your website. As such, this helps boost the SEO of your website & it also helps to generate leads, and drive sales.
But what should you do first?
Focus on building a solid email list and crafting engaging email content. This includes creating a variety of email types, including newsletters, promotional emails, and event invitations.
So, let's say you have an online shop for personalized greeting cards for special occasions like birthdays, weddings, and graduations. You can create a strategic email marketing plan that includes personalized content and calls to action to bring them to your site.
For example, you can group customers who have purchased birthday cards together and send them a personalized email with a website link to your latest collection of birthday cards. You can also include images of your best-selling greeting cards and a call to action like "Shop Now" or "View Collection."
---
Also Read: What Should You Consider When Developing Website Content?
---
5. Allow Automation & Scalability
As a small business entrepreneur, you have your hands full being involved in every facet of your business. As such, it'll be hard to send emails manually. Email marketing automation tools will help streamline the process and save you time.
Taking advantage of email automation allows you to set up email workflows that automatically send emails to your subscribers based on triggers and rules that you set up. For instance, let's say you are a multi-industry company. That means different target audiences and distinct relevant content to be sent, making it difficult to manage manually.
With email automation, you can set up an automated workflow for each segment that sends out your newsletter emails to your targeted subscribers every week without needing to manually send them out yourself.
Moreover, email automation tools such as GetProspect cold emailing tool also allow you to use customizable email templates to fit your brand's look and feel, making it easier to create and send emails. This proactive approach saves you time and effort, allowing you to focus on other business opportunities, especially as you grow your brand.
Furthermore, email automation platforms offer valuable marketing tools for small businesses. You can segment your email list based on subscriber behavior and send personalized messages to different groups. This targeted approach will help increase open and click-through rates, boost your conversions and nourish customer loyalty.
6. Provide Measurable Results
You need to measure the success of your marketing efforts. Leverage email marketing software to measure results through email metrics to track and analyze the performance of your email campaigns. Thus, you'll determine what works and what doesn't, refine your strategies, and achieve better results over time.
For instance, let's say you run an online lingerie store. To increase your retail sales, you decide to run an email campaign targeting your existing customers. You segment your email list based on customer purchase history and use an effective email service provider to create personalized email communications with relevant product recommendations and special promotions.
You should track the following metrics to assess the effectiveness of your email campaign:
Open rates
Bounce rates
Conversion rates
Click-through rates
As such, you can determine which lingerie collection page was visited more or which product page was clicked more. For instance, if your link to the swimwear collection was clicked more than the accessories link, you have a chance to refine your promotional email content.
You can include a special promo code in your email along with the link to your swimwear product page to further drive engagement and sales. Use the data to your advantage and make informed decisions that result in business growth.
---
Also Read: 15 Best SEO Audit Tools For Your Website (Free+Paid)
---
7. Improve Customer Retention
Regularly engaging with your loyal customers through email allows you to present them with valuable content and offers that keep them happy and coming back for more. This is crucial for businesses of all sizes but more so for a small business like yours, that's just in the process of growing your brand.
Let's take a company that depends on consistent high-quality events. Email marketing will help keep its customers engaged and informed about exclusive pay-per-view promotions and upcoming events.
It can send special promo codes to its mailing list to encourage its existing customers to continue watching on its platform. It can also develop email marketing content that aligns with its business goals and boost customer experience like sending a replay link through email to current customers once the fight is finished.
Moreover, it can send regular newsletters with valuable content, including fighter profiles or sneak peeks during training. Staying in touch with your customers through email lets the platform keep its customers happy and engaged. Thus, improving its customer retention rates.
With an effective email marketing strategy, you should do the same and create a seamless user experience that keeps customers engaged and coming back for more.
---
Also Read: How Can You Make A Website Look More Professional?
---
8. Strengthen Customer Relationships
Personalized emails, timely responses to inquiries, and providing valuable information will help businesses establish trust and loyalty. Additionally, when you nurture these relationships with the help of customer success managers, you will turn customers into brand advocates who will recommend your products or services to others.
In addition, the email can be personalized with the recipient's name and include exclusive perks such as a pre-order discount or free shipping. The email can also include educational content on the benefits of using GPS trackers for dementia patients to demonstrate your brand's commitment to providing valuable information to your customers.
Not to mention strong customer relationships also encourage future purchases. For instance, your email service provider will segment the email list to send targeted messages to customers who have purchased GPS trackers in the past, promoting accessories to complement their existing devices.
9. Gather Customer Feedback
Including surveys or feedback forms in your email communications lets you actively engage your audience and gain valuable information to improve your products or services. You can also use it as a tactic when rebranding. That way, your customers feel more involved with your business.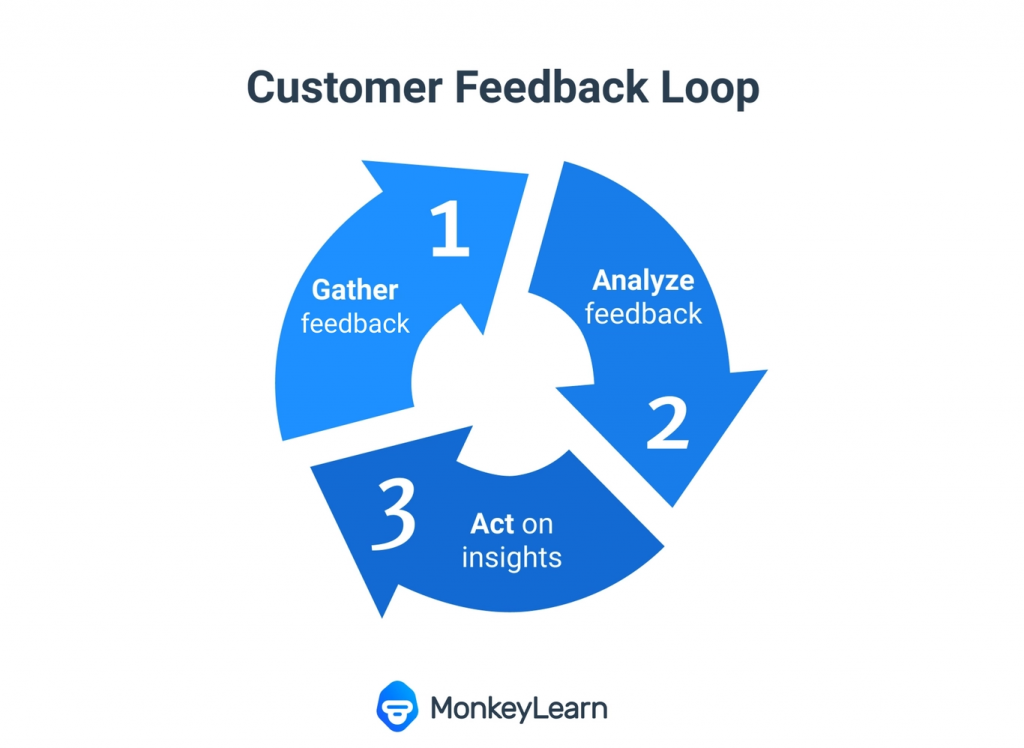 Additionally, you can send an automated email after your customers make a purchase. As such, you'll know if your products or services are meeting their expectations or if you can improve something. This approach makes customers feel valued and heard.
Additionally, leveraging customer feedback obtained through email marketing campaigns allows you to make data-driven decisions to meet customer needs better. This customer-centric approach strengthens the business-customer relationship and fosters loyalty, as customers appreciate being involved in shaping your company's direction.
10. Integrate With Other Marketing Channels
Email marketing allows you to create a cohesive and impactful digital strategy. As a small business, you should leverage email campaigns to seamlessly connect with social media and content marketing efforts, driving engagement and amplifying your message across multiple platforms.
One way to integrate email marketing with social media is by including social sharing buttons in your email templates. This lets your subscribers easily share email content on their social profiles, expanding the reach of your message. Plus, it will also help you generate social proof, as others see the content shared and engaged with by their peers.
Not to mention, integrating email marketing with other channels ensures consistency in messaging. Thus, increasing your chances of getting higher engagement rates, driving more traffic, and ultimately achieving your marketing goals.
---
Also Read: Does Buying Traffic To Your Website Work?
---
11. Strengthen Brand Awareness
As a business, you want longevity. Email marketing is a powerful tool for increasing brand awareness and establishing a strong presence among your target audience. Sending regular emails with valuable content can help keep our brand at the forefront of your audience's minds and ensure that they are consistently engaged with your business.
Moreover, consistent communication through email allows small businesses to showcase their expertise and demonstrate their value to their subscribers. For example, Estuary, a data integration platform, has an article that compares it to its competitors.
That type of article can be sent to showcase the advantages of using Estuary and how its platform fares against the others in its niche. It highlights the brand's knowledge and expertise. This not only helps to position the brand as a trusted authority but also keeps its subscribers engaged and interested in what it has to offer.
Additionally, sending valuable and informative email marketing content allows you to build and establish strong brand credibility. When your subscribers consistently receive helpful and relevant information from you, they are more likely to view your brand as a reliable source and develop a positive perception of your business.
With that, it's time to answer an important question. It'll help further boost your understanding of why email marketing is a game-changer because you'll know why it appeals to many businesses, including many established ones. Plus, you'll have an overview of key email marketing statistics to see just how it impacts businesses.
Let's have a recap of what we learned about the benefits of Email Marketing for small businesses below:

---
Also Read: Top Industries That Can Benefit From SEO In 2023
---
Why Email Marketing Works?
Whether it's a simple message expressing your gratitude for their subscription, a warm welcome to new customers, or a heartfelt birthday greeting, email provides an effortless and efficient means to communicate your appreciation.
Some must-know statistics:
The number of email users is set to soar to almost 4.6 billion by 2025.
Businesses across various industries experience an average email open rate of 19.7%
A significant 59% of respondents credit marketing emails for influencing their purchases.
Customers appreciate businesses that treat them as individuals, valuing their unique needs and preferences rather than lumping them together with everyone else. When customers feel valued and anticipate receiving your emails, they are more likely to engage with your content, open your emails, and take the desired actions.
This increased engagement will result in higher conversion rates, improved customer loyalty, and ultimately, business growth. As you can see, the benefits of email marketing allow you to build a strong foundation to make your business boom.
Conclusion
Delivering personalized and valuable content straight to their inbox helps you build strong relationships, foster trust, and drive action. The benefits of email marketing can't be understated, and these advantages discussed above will empower you to effectively engage with your target audience.
You have to remember that success in email marketing requires continuous evaluation and adaptation. You must also evaluate your current strategies and explore the potential to grow your email marketing campaigns.
So, how can you optimize your email campaigns to better engage your audience and achieve your business goals?
You should take charge of your email marketing journey today and leverage the comprehensive tools and services Host IT Smart offers.
Host IT Smart allows you to integrate Google Workspace or Office 365 to help you start your email marketing tasks, including having your business email accounts to help with branding. Learn more about our packages and get started with Host IT Smart.