Can you take a wild guess of who I am?
My existence on the internet has been for ages now.
You search for me when seeking information, timeless guidance, creative ideas, and learning new hacks.
I am accessible in different forms, sometimes short and often prolonged.
I am quirky, opinionated, filled with information, and of course, technical and creative.
Did you guess, or should I say more? Never mind, you already guessed it.
Say hi to your techno version of the 'Dear Diary' — Blog.
Today, everyone is familiar with the concept of blogging. In fact, numerous individuals are pursuing it as a full-time career. Although there are a few people who feel hesitant and wonder if is it worth starting a blog. Through this write-up, we will help you understand whether blogging is worth it.
Before starting the article, we shall break some myths about your very own friend blog.
Is Blogging Dead?
No! Blogging is alive and breathing. In fact, it will continue to flourish in the foreseeable future. Over the years, numerous misconceptions were spread surrounding the notion that blogs have no relevance in the market. However, let us clear the air by saying that idea is far from the truth.
Even though countless challenges were encountered throughout the journey, such as people shifting their attention to social media, saturation in the content, and the advent of Vlog, blogs stood tight and continued to remain a vibrant medium of content that added value and meaning in people's life.
According to Ahrefs, 76% of content marketers leverage content as a medium to generate leads. Moreover, OptinMonster claims that 72% of online marketers describe content creation as the most effective SEO tactic.
These numbers serve as evidence that the blog is thriving and in good health. Although adapting the best SEO practices, quality writing, and staying relevant with the trend will help the blogs stick through the market.
As you already know that blogging has been flourishing like a green bay tree. Let us move forward to talking about its benefits.
---
Also Read: Blog VS Website: The Difference You Need To Know As A Beginner
---
Amazing Reasons About Why Start a Blog
Here are the 10 amazing reasons why you should start a blog for growth & success.
1. For Inspiring People
If you are passionate about inspiring people, this is the best opportunity knocking at your door. Content writing, especially blog writing, is fantastic for expressing your thoughts, opinions and sharing ideas.
A well-written blog addressing a concern/issue, conveying an idea or point of view, sharing personal experience, offering tips, highlighting success stories, or promoting creativity can inspire readers for good.
You never know when your piece of content starts adding purpose or influencing someone's life.
2. For Personal Branding
Building a well-recognized brand is crucial, especially when you are on the internet. The digital space offers countless benefits, including an increased customer base, better sales, traffic, and more. However, this is only achievable through branding.
Blogging helps you create brand awareness and stay relevant over time. You can blog about your niche or trendy topics and promote them to the right audience to grab their attention.
Blogs not only become your voice, showcasing a definite purpose, but also helps you build a network of like-minded individuals by engaging with them.
You also need to ensure about posting blogs at regular intervals. Blogging is also about consistency. You need to make the most of your efforts by staying consistent to reach a desired goal.
3. For Expressing Creative Freedom
Unlike website content or any other formal article, blogging gives you an expressive corner to put your stance forward. Bloggers are a creative breed and don't like being tied to conventional practices. Blogging offers the creative space that writers constantly search for!
You can publish quirky content while showcasing your way of thinking. Plus, blogging is not limited to text. Incorporating visuals and interactive elements can unleash a blogger's creative side.
The best part is that you can experiment. You can explore various niches, try different strategies, and adapt to creating content based on what readers want.
Even though you might flunk initially, there is always room for learning and improvement, leading you to refine your craft.
All in all, blogging gives you complete control, flexibility, and of course, an atmosphere to channel your thoughts.
---
Also Read: How Can You Make A Website Look More Professional?
---
4. For Improving Writing Skills
Are you an aspiring writer or someone who knows how to write but wants to polish your skills? We recommend that you start blogging. Blogging is a great way to refine your skills. Unlike website content, blogs are an excellent medium to master your writing skills.
Firstly, you get to be consistent with your writing, which is crucial for honing your skills. Producing content at regular intervals helps you improve your grammatical and communication skills.
In fact, it helps you gauge blogs with a critical eye. As you proofread and make the required modifications, you tend to become more attentive toward your errors, enhancing your quality of writing. You also become better at research and fact-checking since content writing typically revolves around researching and reading.
Lastly, your audience becomes your best guide. Once you start posting and promoting your blogs, you will receive constructive feedback from your target audience, which can help you identify the areas of improvement and what your readers want. You can incorporate these comments into your content and enhance your overall writing skills.
5. For Sharing Personal Experience
Currently, there are 600 million active blogs on the internet, and personal blogs being one of the most popular and preferred blogging form among them.
These blogs help you share content based on your real-life experiences. You can write them in the form of stories and daily journals. It can be related to any topic of your life, such as travel experience, foods you love, fashion guidance 101, hobbies, and so much more.
Generally, these blogs are written in the first person to give readers a personalized and relatable experience. Hence, personal blogs would be a great place to start if you want to pour your heart out or get better at writing.
6. For Networking
Blogging is a wonderful way to start a conversation. Readers, fellow bloggers, content creators, and masters in the industry can get in touch with you through blogs. It is possible for them to leave a comment or message you if they like what you have written.
Social media is another splendid conversation starter. You can share the blogs on the stories and as a direct message with your mutual friends to interact with like-minded individuals. Joining blogging communities on Facebook, Quora, Reddit, etc., can also help you connect with people.
7. For Generating Revenue
There are variousreasons to start a blog, and generating revenue is one of them. While freelancing and working as corporate employees are the most common ways to make money, affiliate marketing, selling merchandise, and offering online courses and workshops are a few other ways to earn plenty of bucks.
8. For Business Promotion
Many marketers and business owners tend to question the following:
Is making a blog worth it?
And we say yes, it is!
Blogs can become the voice of your business. You can share about different trends, your niche, company news, accomplishments, and so much more.
Writing such content can keep your audience engaged. Your audience will get to know about your values, objectives, working environment, and other aspects related to your business. It also helps shape a unique identity of your business, leaving a lasting impression on the target audience.
Since we have given you the benefits of starting a blog, we shall now discuss some more aspects of blogging.
---
Also Read: Can I Blog To Improve The SEO Of Website?
---
Is Blogging Simple?
While many might assume that blogging is a straightforward process, it's not necessarily simple in all aspects. Writing a blog requires time, effort, research, and creative freedom to create quality content and engagement among the audience.
You also need to consider SEO practices such as keywords, strategic and natural placement, meta descriptions & titles, writing clickbait titles & headers, maintaining a structure, and SEO optimization. Incorporating visuals such as infographics, images, videos, and more is also an essential part of blogging.
Besides the technical challenges, blogging is about staying up-to-date with the trends. Frequent posting and maintaining readership and engagement are equally important.
If we were to answer the question, blogging is a complex process approach that becomes easy when you put in the effort, be dedicated to your craft, and implement the right strategies & marketing channels.
How Can You Make Money with Blogging?
If you have come this far, you might recall the "Generating Revenue" pointer. Reading the point would have given you an idea about different ways of making money. However, those weren't all of them. There are numerous other ways to monetize through blogging.
Let's unravel them, shall we?
➢ Advertising
This method allows you to make money by displaying advertisements on your blogging website. Every time visitors landing on your website clicks on the advertisement, a pre-determined amount is given to you.
➢ Affiliate Marketing
This marketing tactic is all about offering referrals on your website for other products/services/companies. You get a certain referral fee or commission whenever a user clicks on the referral link or code associated with the company's website.
➢ Influencer Marketing
One of the best ways to promote your services/products are through influencer marketing. Businesses aiming to increase sales or customer base can connect with you if you have a solid follower base. You can promote their products or services and earn money from them.
➢ Digital Books
We all have heard that authors can make substantial money by publishing novels. You can do the same digitally!

They are known as Ebooks, where you can write and sell a copy to sites like Amazon Kindle Direct Publishing, Rakuten Kobo, Visme, and so many others. Ebooks are an effective way to make passive income.
➢ Sponsored Content
Herein, you are supposed to promote the content written by other brands and businesses regarding their services, products, website, or company on your blogging platform. Each mention or post containing a link can help you gain a certain amount from the brand or business.
➢ Online Coaching
This type of method is for writers who plan to grow and make money by becoming a life or career coach. You can offer different coaching packages covering multiple topics related to your niche and encourage interested students to gain knowledge and learn new skills.

You can also create courses on your expertise and sell them to the students. Both methods are amazing ways to generate significant revenue.
➢ Consultation
Many business owners need someone who can pave their way toward success, and you can be the one if you have expertise in your field. You can offer consultation or professional guidance to clients planning to grow their businesses and yield big bucks.
➢Events or Workshops
Hosting seminars, webinars, and workshops on different topics is a fantastic monetization opportunity. You can charge up a certain amount for your workshops to interested participants. Additionally, you can join forces with sponsors and partners for additional earnings.

We hope the above reasons provided enough information to determine whether is it worth starting a blog. If you have made up your mind, the next thing you would want to do is start blogging. Let's explore how you can start blogging.

Let's have a recap of what we learned about making money with the help of the blogs below:
---
Also Read: 8 Best Ways To Make Money With WordPress
---
1. Research on the Niche
The initial step is to research and discover what's your area of interest. Many assume you can start blogging on any niche or every subject. However, that's not true.
Every blogger has a flair for a niche. It can be personal blogs, travel blogs, technology blogs, creative blogs, etc. It's crucial to identify your specialized areas to highlight your expertise.
Perceiving your specialization also helps you gain credibility, create relevant content, segment your target audience, develop content strategies, stay consistent in your craft, and, of course, outshine the competition.
2. Work on Competitor Analysis
The next and most vital step for blogging is analyzing your competition.
Competitor analysis is conducted to know who your competitors are, what types of blogs they are writing, how many followers they have, what their strategies are, how they engage the audience, etc.
Upon gathering all the insights, you can plan new strategies, improve your existing ones, comprehend key areas of improvement, and make data-driven decisions. All in all, it helps in improving your performance.
3. Identifying Target Audience
Determining your target audience is essential for digital growth. Many bloggers tend to make the mistake of blogging without specifying their audience. However, that's not right.
Classification of the right target audience will help you get an idea of blog topics. Content can be created based on the preferences of your target audience. You can write blogs solving their queries and subjects they search for.
After getting a deep understanding of what your blog audience needs, building a loyal readership base becomes easy. Moreover, this also helps with SEO growth which we will discuss after a few pointers.
---
Also Read: 15 Best SEO Audit Tools For Your Website (Free+Paid)
---
4. Register Your Domain Name
The domain name is the face of your business/brand. You need to make sure it leaves an unforgettable impression on your readers.
While choosing an easy-to-read, interpret, and right domain name is important, you also need to ensure that it aligns with your niche.
Let's assume you blog on traveling. However, you choose a name related to a travel agency, which can cast doubt among your target audience about what you actually do.
Hence choose the creative domain name wisely. Always remember to avoid making grammatical or spelling errors in the domain name. It would be best to avoid using numerals, slang, hyphens, trademarks, and homophones. Also, try not to register a long domain name.
Domain Registration
Build Your Brand's Digital Foundation With Trusted Domain Registrar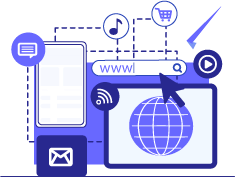 5. Purchase a Web Hosting
Web hosting is not limited to procuring a digital space. Choosing a reliable hosting provider is paramount for a seamless online experience.
You must invest in hosting services that offer a high-speed, secure environment, desired website storage capacity, atleast 90% of uptime, high bandwidth in hosting, scalability, and reliable customer support.
Besides the above pointers, you must go for a provider that offers all these services at an affordable cost without any hidden fee, which may come as a surprise in the future.
6. Draft Well-written Content
It's time to showcase your skills by drafting quality content. Before you jump straight to writing, we recommend researching the topics related to your niche.
You can check what your competitors are writing about and search on Google to find out relevant blog topics. You can also choose a few topics beforehand and prepare an Excel to maintain the list.
Once you have figured out the topic, the next step calls for drafting the content. Firstly, you must narrow down your research and gather the information on the topic you plan to write. Plan the structure of your blog and start drafting the content.
Grab your reader's attention with the first few lines of your content. Meaning create a compelling introduction with an eye-catchy title.
Avoid making grammatical or spelling mistakes. Your sentences should be clear and concise, giving valuable and detailed information on the subject. You can also use idioms, phrases, statistics, and much more to make your content engaging.
The tone of your content should be friendly, as if you are communicating with someone. Usage of headings, subheadings, and bullet points is a must. This breaks up the text making your content easier to read and understand.
Lastly, proofread and make the final changes before hitting the publishing button.
7. Don't Forget SEO
While following the best writing practices are fundamental for drafting quality content, adhering to SEO techniques is equally significant for online growth.
Conduct keyword research on the topic. You need to identify long tail, short tail, LSI, and tertiary keywords while identifying their relevancy for the topic.
Look out for their search volume. Majorly, high search volume keywords have high competition, and low search volume keywords generally have low competition. Although, this might not be true for every case. You need to figure out which will be the best for your content to rank on the search engines.
The placement & number of keywords should be natural, strategic, and relevant to the content.
Next, you must focus on On-page Optimization. It includes adding keywords in the meta descriptions, titles, and URLs while not compromising on the flow and quality of your content.
Don't miss out on internal and external linking. Internal linking helps draw readers to a desired page, whereas external linking will show that your content is backed up with data from reputable sources.
Image optimization should also be considered for enhancing the speed of your website. Improving website speed can also be carried out by clearing the browser cache, optimizing CSS files, and minimizing JavaScript files.
Your blogging website should be responsive and adaptive to every screen, especially small screens. Search engines favor mobile-friendly websites in their rankings.
Finally, keep an eye on your website. Update it regularly and troubleshoot issues, if any. All these aspects improve the ranking of your website on the SERPs and enhance user experience.
---
Also Read: Best Content Management System Platform Optimized For SEO
---
8. Start Promotion
Now that your blog is live on the internet, it's time for you to promote it. You can promote your blog on renowned social media platforms such as Facebook, Instagram, Quora, LinkedIn, etc. You can also engage with writer communities and share your blog with them.
Paid marketing is another fantastic way to promote your blogs. You can run ads on search engines and social media platforms to gain visibility.
Guest blogging is one more option in the line where you can share your blogs, including the author bio, to authoritative blogging websites in your niche. It helps you gain more readers and show that your content is valuable and informative.
While there are many other ways to promote your blogs, we believe these recommendations are perfect for the initial stage. Once you build your authority and a community of loyal readers, you can try other promotion methods, such as collaboration, Email Marketing, etc.
---
Also Read: 11 Benefits Of Email Marketing For Small Businesses
---
9. Monitor Your Analytics
Monitoring the growth of your blogs is essential to identify your stance on the internet.
Taking a look at the metrics on the SEO tools gives you an insight into which of your blog posts are popular, how is your traffic performance, how is the readership engagement, what is your bounce rate, how many organic clicks you received, how much is the ROI, and so much more.
Blog analytics empower you to make data-driven decisions leading you to improve your digital performance and user experience.
10. Maintain Consistency
Being a blog writer is all about consistency, and we recommend you never stop and stay consistent with your craft. Blog writing is a long-term commitment that generates fruitful results over time.
Sometimes it can be overwhelming, but don't worry. You will eventually succeed in what you are doing.
Let's have a recap of what things you should know before starting a blog below:
---
Also Read: 11 Benefits Of WordPress Development For Your Website
---
Frequently Asked Questions
Is it worth it to start a blog?
Still wondering the same?
Stop right there!
While blogging has ample benefits, which can make you a better writer, grow your professional career, and simultaneously help you can earn as you would in a daily job or even more! However, pursuing it ahead totally depends on you!
If it piques your interest and you are planning to make a full-time career out of it, go ahead.
---
Also Read: How Much Does It Cost To Start A Blog
---
1. How Much Do Beginner Bloggers Make?
Making money in blogging is significantly dependent on the niche, monetization method, writer's experience, content quality, and marketing efforts.
Besides, you also have to stay consistent with blogging. It is a long-term approach, and you might not be able to see the results at the initial stage. You may start anywhere from zero to a few hundred thousand rupees per month.
However, don't be disheartened. Instead, focus on creating valuable content, improving your content, building a loyal readership base, and experimenting with monetization avenues.
2. What's the Difference Between a Blog and a Website?
The typical difference between a blog and a website is that website is a set of multiple pages sharing information about a brand or company. Generally, websites have a static development since they are not updated frequently.
Blog posts are on diverse topics encompassing information, ideas, or guidance. Unlike websites, blogging websites have a dynamic structure, as bloggers publish content regularly to keep the audience engaged.
Although they have numerous other differences, we focused on the most evident one to give you a better understanding.
3. Can Blogging be a Career?
Indeed! Blogging can be pursued as a full-time career. As previously mentioned, stay consistent with your craft, and you will notice remarkable results.
4. Where to Learn Blogging?
You can find numerous online blogging courses specifically designed for teaching aspiring bloggers. You can apply to one of the courses to learn writing.
Besides this, you can also join blogging communities & forums, visit blogging events, and read the content of fellow writers & veterans in the industry.
5. Will ChatGPT Take Over the Blogging Industry?
No! ChatGPT is an AI model that helps with comprehensive research and generating content. However, it can never replace the uniqueness of bloggers and offer a touch of personalization added by creative heads.
6. How Often Do I Need to Post a Blog?
According to experts in the industry, blog posting should be conducted at least 2 to four times a week. It helps in gaining visibility and creating a solid and loyal following.
7. How Long Should My Blog Posts Be?
The ideal blog length significantly depends on the topic and your target audience. However, it is best for you to write at least 1,500 to 2,000 words.
8. What are the Characteristics of a Successful Blog?
A successful blog is all about drafting quality content that is unique and engaging. It should have detailed and relevant information on the topic.
It is also about the consistency and frequency of the blogs, including engaging visuals and ensuring a user-friendly design, followed by monetization and marketing strategy.
9. How Long Does it Take to Build an Audience?
Building a loyal reader base is all about showcasing consistency and writing quality content. Defining a fixed time is not possible.
10. What are Some Security Measures to Take for an Online Blog?
We recommend that you choose a secure platform and update the software, features, plugins, and themes at regular intervals. Don't forget to build a strong password and enable two-factor authentication.
Invest in reliable hosting services, install security plugins, and restrict unwanted access. Be sure to take regular backups and install secure plugins and themes.